10 • minutes
1 • person
Easy
Overnight Chia Oats
Looking for a quick and healthy solution to breakfast? This is it! In just 5 minutes you will have a sustaining and nutrient-packed jar of goodness ready for the morning. It's great anytime of the year topped with seasonal fruit and your choice of crunchy nuts or seeds.
Ingredients
¾ cup almond milk (we love Isola Bio)

1/3 cup Chantal Organics Rolled Oats

1 tsp Chantal Organics Chia Seeds

2 tsp Chantal Organics Apple Syrup

¼ tsp vanilla extract

2 tsp sultanas

Optional toppings:

1 banana, thinly sliced

1 piece of seasonal fruit, chopped

1 tsp Chantal Organics Desiccated Coconut

1 tsp Chantal Organics Activated Almonds, roughly chopped
instructions
Step 1.

Combine oats, chia seeds, sultanas, apple syrup, vanilla, and almond milk in a small glass jar with a lid. (Our almond butter jars are ideal to reuse for this. Or our peanut butter jar allows room to add fruit).

Step 2.

Put the lid on tightly and gently shake the jar until completely mixed. Refrigerate overnight.

Step 3.

In the morning, add your choice of toppings and enjoy! Or grab and go for a healthy breakfast on the run or at your desk.
LOOKING FOR MORE RECIPE IDEAS?
Sign up for delicious recipes and sustainable living ideas (don't worry, we won't spam you and we never share your data!)
Chantal Organics Products used
Other recipes you may like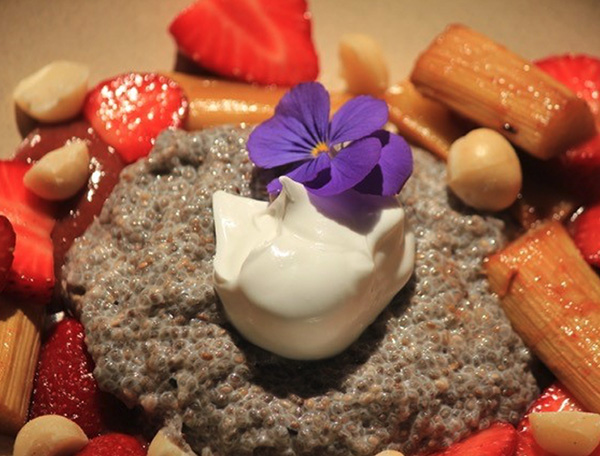 Chia Breakfast Pudding with Strawberry & Rhubarb
We love this combination of rhubarb, strawberry and vanilla. One of our all-time favourites from Chef Earl Zapf.
Chia Oat Bircher
​A classic homemade bircher, ideal to pre-make for busy mornings on the go. We're loving this coconut and cinnamon variety from one of our favourite nutritionists, Chloe Moir.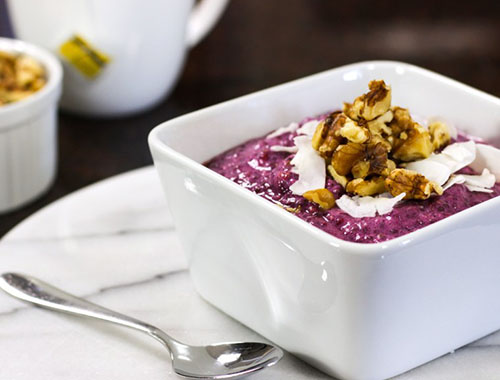 Berry & Chia Pudding
It's no secret that Chia seeds are a winning superfood. Not only are they a great source of omega 3's, dietary fibre and plant based protein, they create a delightfully creamy pudding when mixed with liquid. We're loving this berry variety, from the lovely Chloe Moir.