10 • minutes
2 • people
Easy
Golden Overnight Oats
Overnight oats are a great choice for busy work days and breakfast on the go. We're loving this spiced version, that's packed with golden Tumeric. Tumeric has been used in India for centuries as a medicinal herb for its high nutritional profile and anti-inflammatory properties, so it's great for a morning immunity boost.
Ingredients
1 cup Chantal Jumbo Rolled Oats

2 tsp Chantal Chia Seeds

2 tsp Chantal Pumpkin Seeds

2 tsp turmeric powder

1 tsp cinnamon

A pinch of pepper

1 ½ cups Chantal Organics Coconut Milk
instructions
Step 1.

Combine oats, chia, and pumpkin seeds in a bowl with spices then stir to combine.

Step 2.

Pour the milk into the bowl and stir together then refrigerate overnight.

Step 3.

Mixture will last 3 days when kept chilled.

Serving Suggestions

Serve with fresh fruit, raisins, sliced almonds and a drizzle of honey
LOOKING FOR MORE RECIPE IDEAS?
Sign up for delicious recipes and sustainable living ideas (don't worry, we won't spam you and we never share your data!)
Chantal Organics Products used
Other recipes you may like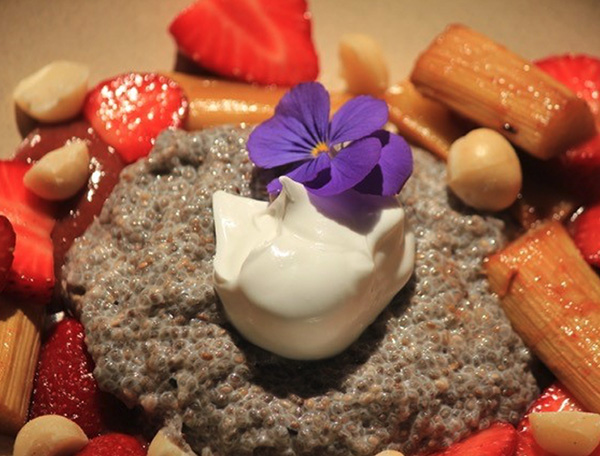 Chia Breakfast Pudding with Strawberry & Rhubarb
We love this combination of rhubarb, strawberry and vanilla. One of our all-time favourites from Chef Earl Zapf.
Chia Oat Bircher
​A classic homemade bircher, ideal to pre-make for busy mornings on the go. We're loving this coconut and cinnamon variety from one of our favourite nutritionists, Chloe Moir.
Overnight Chia Oats
Looking for a quick and healthy solution to breakfast? This is it! In just 5 minutes you will have a sustaining and nutrient-packed jar of goodness ready for the morning. It's great anytime of the year topped with seasonal fruit and your choice of crunchy nuts or seeds.