5 • minutes
1
Easy
Berry & Chia Pudding
It's no secret that Chia seeds are a winning superfood. Not only are they a great source of omega 3's, dietary fibre and plant based protein, they create a delightfully creamy pudding when mixed with liquid.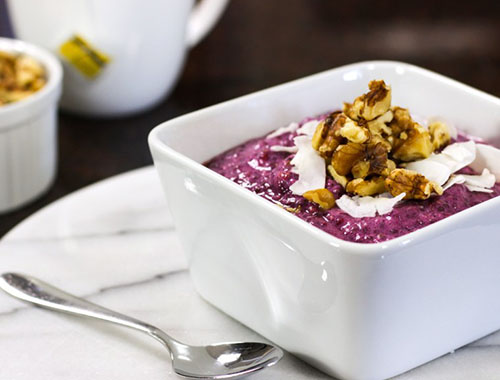 Ingredients
¾ cup almond milk (we love Isola Bio)

¾ cup of frozen or fresh berries

½ a tsp of vanilla extract

¼ cup Chantal Organics Chia Seeds

1 tsp Chantal Organics Hemp Protein Powder (optional)
instructions
Step 1.

Place almond milk, berries, vanilla and protein powder (if using) into a blender and blend until smooth.

Step 2.

Pour berry mixture into a jar with chia seeds. Stir well.

Step 3.

Place on a lid and store in the refrigerator overnight. Enjoy!

Serving Suggestions

Top with your choice of coconut, sunflower seeds, pumpkin seeds, sultanas or fresh fruit.
LOOKING FOR MORE RECIPE IDEAS?
Sign up for delicious recipes and sustainable living ideas (don't worry, we won't spam you and we never share your data!)
Chantal Organics Products used