20 • minutes
2 • people
Easy
Chia Breakfast Pudding with Strawberry & Rhubarb
We love this combination of rhubarb, strawberry and vanilla. One of our all-time favourites from Chef Earl Zapf.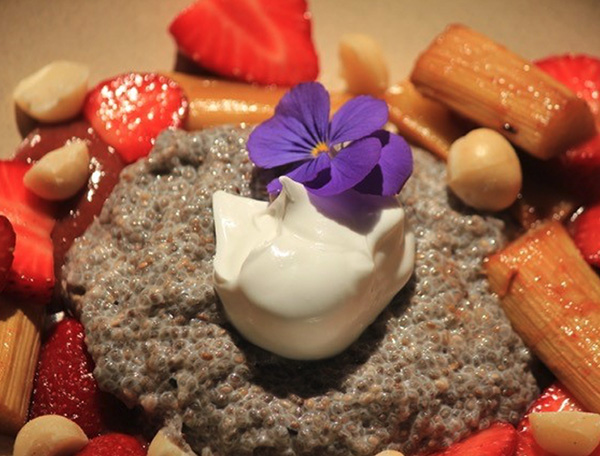 Ingredients
½ cup Chantal Organics Chia Seeds

2 cups almond milk (We love Isola Bio)

Seeds of 1 vanilla pod or 1 teaspoon vanilla extract

2 tablespoons maple syrup

250g strawberries

2 tablespoons Chantal Organics Apple Syrup

4 stalks rhubarb

1 tablespoon coconut sugar
instructions
Step 1.

To make the chia pudding simply combine the almond milk, chia seeds, vanilla and maple syrup in a bowl. Using a whisk mix well until combined and the mixture begins to thicken. Whisk every five minutes for the first 20 min to avoid clumping of the chia seeds.

Step 2.

You can store this mixture in the fridge for up to five days. Give it a good stir before serving and if necessary add a little more almond milk to get the consistency you want.

Step 3.

For the compote, peel the rhubarb and cut into 2 cm lengths, toss with the coconut sugar and dry roast on a baking paper lined tray at 180C for about 10 min. You want the rhubarb to be lightly caramelized and soft but not turned to mush.

Step 4.

Slice the strawberries and combine with the apple syrup; let macerate for a bit and then add the roasted rhubarb.

Step 5.

Spoon the rhubarb and strawberries over your chia pudding and top with some coconut yoghurt and some macadamia nuts for a bit of texture crunch.
LOOKING FOR MORE RECIPE IDEAS?
Sign up for delicious recipes and sustainable living ideas (don't worry, we won't spam you and we never share your data!)
Chantal Organics Products used