15 • minutes
3/4 • cup
Easy
Homemade Hummus
Hummus is surprisingly fast to make and tastes yummier when made from scratch. You can easily spice up your hummus by adding harissa or your favourite spices.
Ingredients
2 tbsp Chantal Organics Hulled Tahini

2 cloves garlic, crushed

1/2 tsp salt

1/2 tsp chilli powder

2 tbsp Chantal Organics Extra Virgin Avocado Oil

Juice of 1 lemon

400g can Chantal Organics Chickpeas drained, 3 tbsp brine reserved

To serve (optional):

Sliced fresh bread

Pine Nuts (we love FreshLife)
Parsley (we love Superb Herb)
instructions
Step 1.

Add tahini, garlic, salt, chilli powder, oil and lemon juice into a blender. Blend on high for 1–2 minutes until the mixture lightens in colour.

Step 2.

Add the chickpeas into the blender. Blend on high until the mixture stops moving. Turn off, scrape down the sides and toss the mixture. Blend on high again for 2–3 minutes until smooth. While the machine is running add a tablespoon of brine in at a time.

Step 3.

Chill and serve as a dip with your favourite bread, raw carrot sticks, capsicum or cucumber. Garnish with fresh herbs.

Tip:

Try different variations by adding in a handful of parsley, spinach and feta. Sprinkle toasted pine nuts on top. Or try adding 1 roasted red pepper and 1 tbsp harissa plus dukkah and basil sprinkled on top.
LOOKING FOR MORE RECIPE IDEAS?
Sign up for delicious recipes and sustainable living ideas (don't worry, we won't spam you and we never share your data!)
Chantal Organics Products used
Other recipes you may like
Beetroot Hummus & Four Seed Crackers
​We're loving this healthy cracker and dip combo from the lovely Nicola Galloway. The addition of beetroot powder adds a hint of earthy sweetness to this flavoursome and creamy hummus, and the crackers are a delightfully crunchy gluten free option to dip.
Herby Avocado Hummus
​This fresh green herb hummus recipe is best to make just before serving, as the beautiful green colour turns brownish on top with time.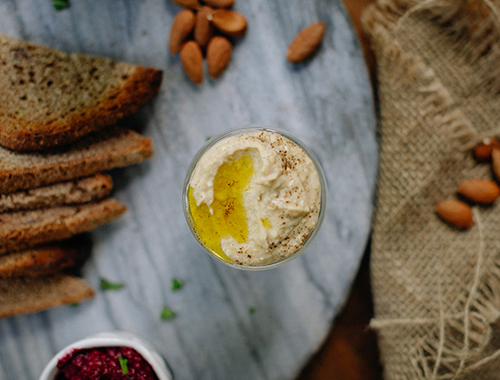 Garlic & Lemon Hummus
​Not only are store brought dips expensive, they're often filled with additives and preservatives that aren't so great for our health. Here's a simple recipe for homemade hummus that's perfect with veggie sticks as a wholesome afternoon snack.