20 • minutes
4 • people
Average
Beetroot Hummus & Four Seed Crackers
​We're loving this healthy cracker and dip combo from the lovely Nicola Galloway. The addition of beetroot powder adds a hint of earthy sweetness to this flavoursome and creamy hummus, and the crackers are a delightfully crunchy gluten free option to dip.
Ingredients
​Beetroot Hummus

400g can Chantal Organics Chickpeas

3-4 tsp Chantal Organics Beetroot Powder

Juice of one lemon, about 1/3 cup

1/4 cup Chantal Organics Extra Virgin Olive Oil

1 Tbsp Chantal Organics Hulled Tahini

1 garlic clove, chopped

1/2 tsp Chantal Organics Cumin Powder

Salt and cayenne pepper to taste

Four Seed & Rosemary Crackers

1 cup Chantal Organics Sunflower Seeds

1/2 cup Chantal Organics Pumpkin Seeds

1/4 cup Chantal Organics Brown Linseeds

2 Tbsp black sesame seeds

1 tsp fresh rosemary, chopped

1/2 tsp Chantal Naturals Sea Salt Fine + extra for sprinkling

1 Tbsp Chantal Organics Neutral Coconut Oil

1/3 cup hot water
instructions
Step 1.

​Beetroot Hummus

Step 2.

Sit a small sieve over a jug. Tip the chickpeas into the sieve allowing the liquid to strain into the jug – reserve the liquid.

Step 3.

Place the chickpeas and remaining ingredients into a food processor. Blitz until smooth adding extra chickpea liquid as needed to produce a creamy consistency.

Step 4.

Adjust the seasoning, adding more beetroot powder or lemon juice if desired. Store in an airtight container in the fridge and consume within 3–4 days.

Step 5.

Four Seed & Rosemary Crackers

Step 6.

Preheat the oven to 180C and place a baking tray on the middle rack to preheat.

Step 7.

Put the sunflower and pumpkin seeds into a food processor and blend until coarsely ground. Add the linseeds, sesame seeds, kelp, rosemary and salt and blend for 10 seconds.

Step 8.

Add the oil and hot water and pulse to combine, scraping down the sides several times until evenly mixed. The mixture will be quite wet at this stage, set aside for 10 minutes for the linseeds to absorb excess liquid. After this time squeeze the mixture to check it holds together, adding 1-2 teaspoons extra water if needed and blend again to combine.

Step 9.

Lay a large sheet of baking paper on the bench and tip the cracker mixture onto this. Use your hands to press out into a large rectangle.

Step 10.

Place another sheet of baking paper on top and use a rolling pin to roll out until 1-2mm thick. Remove the top layer of baking paper and score into crackers.

Step 11.

Sprinkle with extra salt and slide the baking paper, along with the crackers, onto the preheated baking tray. Bake for 18-20 minutes until golden. Use a spatula to transfer to a cooling rack. Store in an airtight container and consume within 5 days.
LOOKING FOR MORE RECIPE IDEAS?
Sign up for delicious recipes and sustainable living ideas (don't worry, we won't spam you and we never share your data!)
Chantal Organics Products used
Coconut Oil Deodorised/Neutral
Other recipes you may like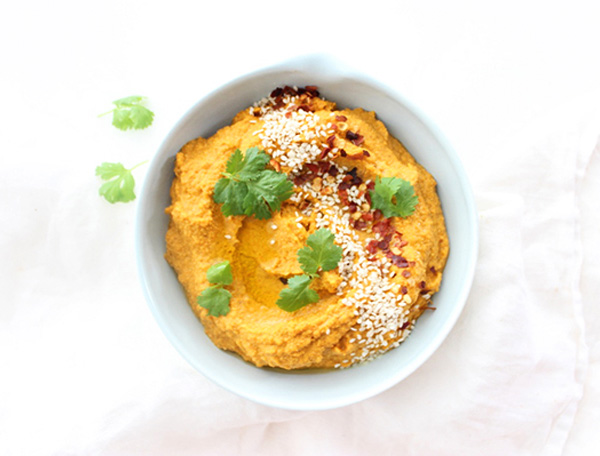 Creamy Paleo Carrot Dip
​A creamy roast carrot dip, that is dairy and legume free, perfect for paleo diets.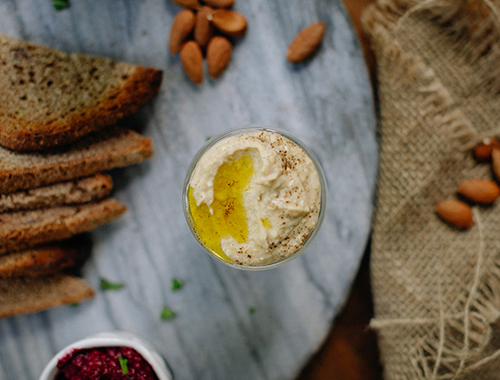 Garlic & Lemon Hummus
​Not only are store brought dips expensive, they're often filled with additives and preservatives that aren't so great for our health. Here's a simple recipe from Tereza Poljanic, for homemade hummus, that's perfect with pita chips and flatbread as a wholesome afternoon snack.
Cottage Cheese & Almond Butter Dip
​This cottage cheese & almond dip goes perfectly with veggie sticks. We love it as a healthy snack or lunchbox treat.