10 • minutes
8 • people
Easy
Garlic & Lemon Hummus
​Not only are store brought dips expensive, they're often filled with additives and preservatives that aren't so great for our health. Here's a simple recipe for homemade hummus that's perfect with veggie sticks as a wholesome afternoon snack.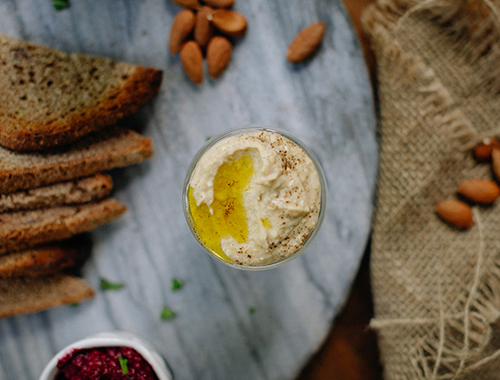 Ingredients
2 x 400g cans of Chantal Organics Chickpeas

4 tbsp Chantal Organics Hulled Tahini

2 garlic cloves, crushed

1 tsp Chantal Organics Sea Salt

8 tbsp Chantal Organics Extra Virgin Olive Oil

3 tbsp freshly squeezed lemon juice
instructions
Step 1.

​Rinse the chickpeas in cold water then tip into the bowl of a food processor or blender.

Step 2.

Add the tahini, crushed garlic, salt and lemon juice. Turn on the food processor and slowly pour in the oil while it runs.

Step 3.

When the mixture is fully combined and smooth, spoon into a serving bowl, and serve alongside vegetable crudites or crackers.
LOOKING FOR MORE RECIPE IDEAS?
Sign up for delicious recipes and sustainable living ideas (don't worry, we won't spam you and we never share your data!)
Chantal Organics Products used
Other recipes you may like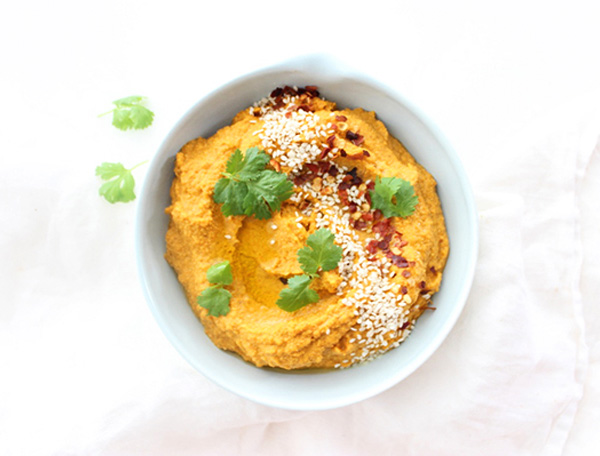 Creamy Paleo Carrot Dip
​A creamy roast carrot dip, that is dairy and legume free, perfect for paleo diets.
Beetroot Hummus & Four Seed Crackers
​We're loving this healthy cracker and dip combo from the lovely Nicola Galloway. The addition of beetroot powder adds a hint of earthy sweetness to this flavoursome and creamy hummus, and the crackers are a delightfully crunchy gluten free option to dip.
Cottage Cheese & Almond Butter Dip
​This cottage cheese & almond dip goes perfectly with veggie sticks. We love it as a healthy snack or lunchbox treat.