10 • minutes
2 • cups
Easy
Herby Avocado Hummus
​This fresh green herb hummus recipe is best to make just before serving, as the beautiful green colour turns brownish on top with time.
Ingredients
1 large avocado (we love NZ avocado)

1 can Chantal Organics Chickpeas, rinsed and drained

5 tbsp Chantal Organics Hulled Tahini

1 cup coriander (we love Superb Herb)
¼ cup extra virgin avocado oil (we love Olivado )

2 lemons, juice only

1 clove garlic, chopped

½ tsp cumin

Salt & pepper

Serve with

1 tbsp Chantal Organics Pumpkin Seeds, lightly toasted

1 tsp smoked paprika

1 tbsp extra virgin avocado oil (we love Olivado)
Extra extra virgin avocado oil (we love Olivado)
Extra coriander (we love Superb Herb)

Baguette to serve

KitchenAid 5 -cup cordless food chopper
instructions
Step 1.

Process all ingredients except oil in a food processor until smooth for about 1 minute. Stream in the oil with the processor running and process a little longer until hummus is light and creamy. Taste, and season with salt & pepper.

Step 2.

Mix smoked paprika with oil. Serve hummus topped with pumpkin seeds, extra coriander, paprika oil and more drizzles of oil.
LOOKING FOR MORE RECIPE IDEAS?
Sign up for delicious recipes and sustainable living ideas (don't worry, we won't spam you and we never share your data!)
Chantal Organics Products used
Other recipes you may like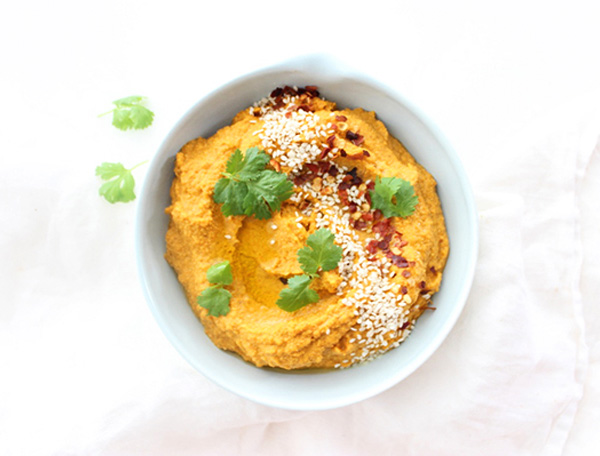 Creamy Paleo Carrot Dip
​A creamy roast carrot dip, that is dairy and legume free, perfect for paleo diets.
Beet And Ricotta Hummus With Crispy Baked Garlic Pita Chips
​We use canned chickpeas to make this beet and ricotta hummus with crispy baked garlic pita chips super easy. You can be creative with this recipe, adding in extra herbs, spices and other baked vegetables. The ricotta makes the hummus ultra creamy whilst the beetroot adds depth and beautiful colour.
Beetroot Hummus & Four Seed Crackers
​We're loving this healthy cracker and dip combo from the lovely Nicola Galloway. The addition of beetroot powder adds a hint of earthy sweetness to this flavoursome and creamy hummus, and the crackers are a delightfully crunchy gluten free option to dip.