45 • minutes
6 • people
Medium
Healthy Homemade Muesli
​A delightfully toasted muesli that's bound to have your kitchen smelling nothing less than delicious! Better yet, it tastes great too!
Ingredients
2 cups of whole and chopped nuts (almonds, cashews, walnuts, pecans, macadamia)

1 cup Chantal Organics seeds (sunflower, pumpkin, sesame, linseeds)

1 cup of Chantal Organics Jumbo Oats

¾ cup Chantal Organics Desiccated Coconut

1 teaspoon cinnamon powder

¼ tsp Chantal Naturals Sea Salt Fine

1 mashed banana

2 tablespoons hot water

2 tablespoons Chantal Organics Coconut Oil (melted)
instructions
Step 1.

Place all dry ingredients in a bowl.

Step 2.

In a separate bowl whisk together the mashed banana, water and coconut oil, pour over the muesli and mix well.

Step 3.

Spread the mixture on a lined baking tray and bake in an oven set at 160 degrees- be careful not to burn it. Every 5 minutes check the muesli and stir.

Step 4.

Cook it for around 30 minutes until it has turned a golden brown colour and is dry and crisp. Once the muesli has cooled, pour it into an air-tight container.

Serving suggestions

Enjoy a handful as is as a snack, or serve with the milk of your choice and fresh, seasonal fruit.
LOOKING FOR MORE RECIPE IDEAS?
Sign up for delicious recipes and sustainable living ideas (don't worry, we won't spam you and we never share your data!)
Chantal Organics Products used
Other recipes you may like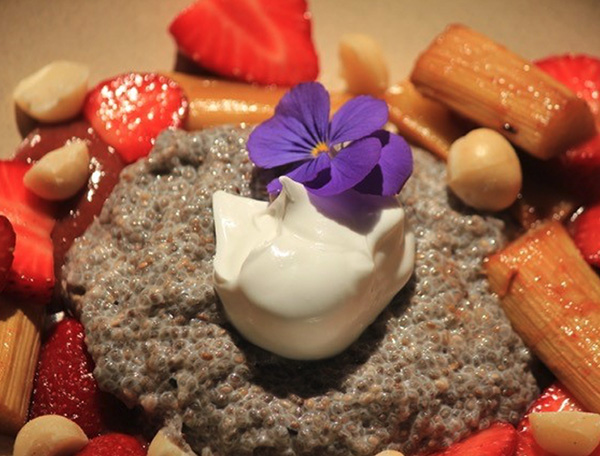 Chia Breakfast Pudding with Strawberry & Rhubarb
We love this combination of rhubarb, strawberry and vanilla. One of our all-time favourites from Chef Earl Zapf.
Ricotta & Banana Toast with Chocolate Almond Butter
​This ricotta and banana brekkie with chocolate almond butter may be your new favourite way to start the day. Best of all… you can whip this up in under ten minutes.