15 • minutes
3 • serves
Easy
Dairy Free Christmas Breakfast Parfait
Want to serve breakfast in style on the special day? Then try our light dairy–free, fruit yoghurt granola parfait.
Ingredients
100g Chantal Organics Gluten Free Ginger Crunch & Plum Granola

1 cup coconut yoghurt

2 kiwi fruits, slice

1 cup fresh strawberries & raspberries

1 banana

A handful pistachio kernels (we love Fresh Life)

1 tbsp red (plum or strawberry) jam (optional)

A few leaves mint (we love Superb Herb)
A handful coconut chips (we love Fresh Life)

A drizzle of Chantal Organics Creamed Honey
instructions
Step 1.

Mash the banana and stir it into the coconut yogurt. Mash the raspberries with jam (if using).

Step 2.

In three glasses or jars, layer yogurt mix, fruit, granola and mashed raspberries attractively. Garnish with coconut chips, fresh mint and a drizzle of honey.
LOOKING FOR MORE RECIPE IDEAS?
Sign up for delicious recipes and sustainable living ideas (don't worry, we won't spam you and we never share your data!)
Chantal Organics Products used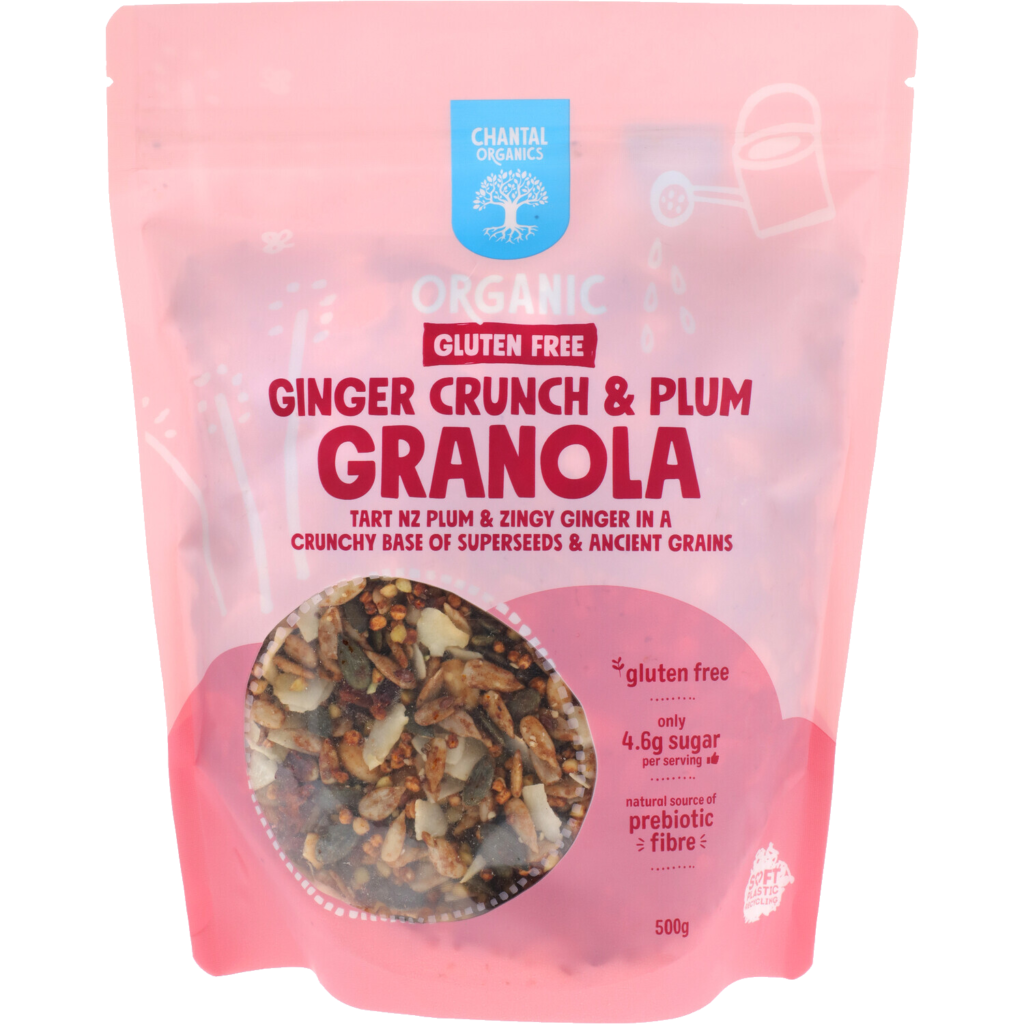 Gluten Free Ginger Crunch & Plum Granola
Other recipes you may like
Healthy Homemade Muesli
​A  delightfully toasted muesli that's bound to have your kitchen smelling nothing less than delicious. Better yet, it tastes great too!
Toasted Christmas-Spiced Figgy Muesli
This muesli is inspired by the flavours of Christmas. It is sweetened naturally with honey, and juicy dried figs and cranberries, and packs a delicious spice punch thanks to the cinnamon and ginger toasted rolled oats. A yummy breakfast to enjoy with fresh seasonal berries and creamy yoghurt in the lead-up to Christmas!
Cottage Cheese Breakfast Bowl
Cottage cheese is the perfect alternative to yoghurt if you're looking to mix up your morning breakfast bowl. Delicious and nutritious served with crunchy granola, fresh berries and fragrant sweet spices, with hemp hearts for added protein and Omega's.