15 • minutes
4 • people
Xmas Sausage Roll Wreath
​This Christmas Sausage Roll wreath will become the centerpiece of your Xmas party. These sausage ...
20 • minutes
4 • people
Winter Bacon, Apple & Kale Salad
​The perfect winter salad. Fresh leaves of kale, sweet apple and golden crunchy bacon with homemad...
30 • minutes
15 • bars
Vegan Seeded Hemp Protein Bars
These no-bake bars are packed with plant-based protein and omegas found in the hemp. Fresh dates giv...
25 • minutes
4 • people
Tasty Rice Salad with Charred Sweet Stem Broccoli & Coconut
​This tasty rice salad is a delicious vegetarian meal. We love the coconut spicy dressing with the...
5 • minutes
6-8 • people
Simple Pita Chips
​These freshly homemade pita chips will take your Chips & Dip platter to the next level. Super...
10 • minutes
2 • people
Shiitake Gyoza with Stir-fried Pak Choy
​Gyoza is a Japanese style dumpling. These shiitake gyozas are succulent and juicy, packed full of...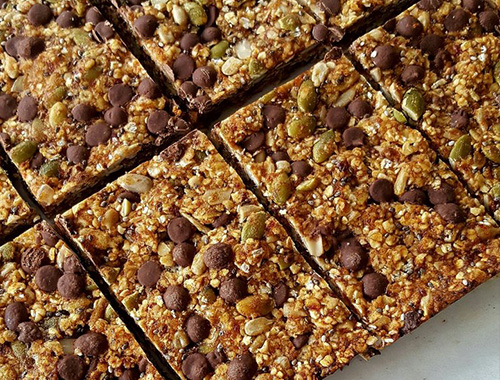 20 • minutes
10 • bars
Seedy Chocolate Chip Muesli Bars
Loaded with good-for-you ingredients these seedy chocolate muesli bars are not only ridiculously del...
20 • minutes
12 • muffins
Quinoa Salmon Muffins with Spinach
These gluten free muffins are a nutritious and filling breakfast, or lunchbox addition and using tin...