15 • minutes
4 • people
Easy
Xmas Sausage Roll Wreath
​This Christmas Sausage Roll wreath will become the centerpiece of your Xmas party. These sausage rolls are so simple and quick to make and even easier to tear apart and gobble up!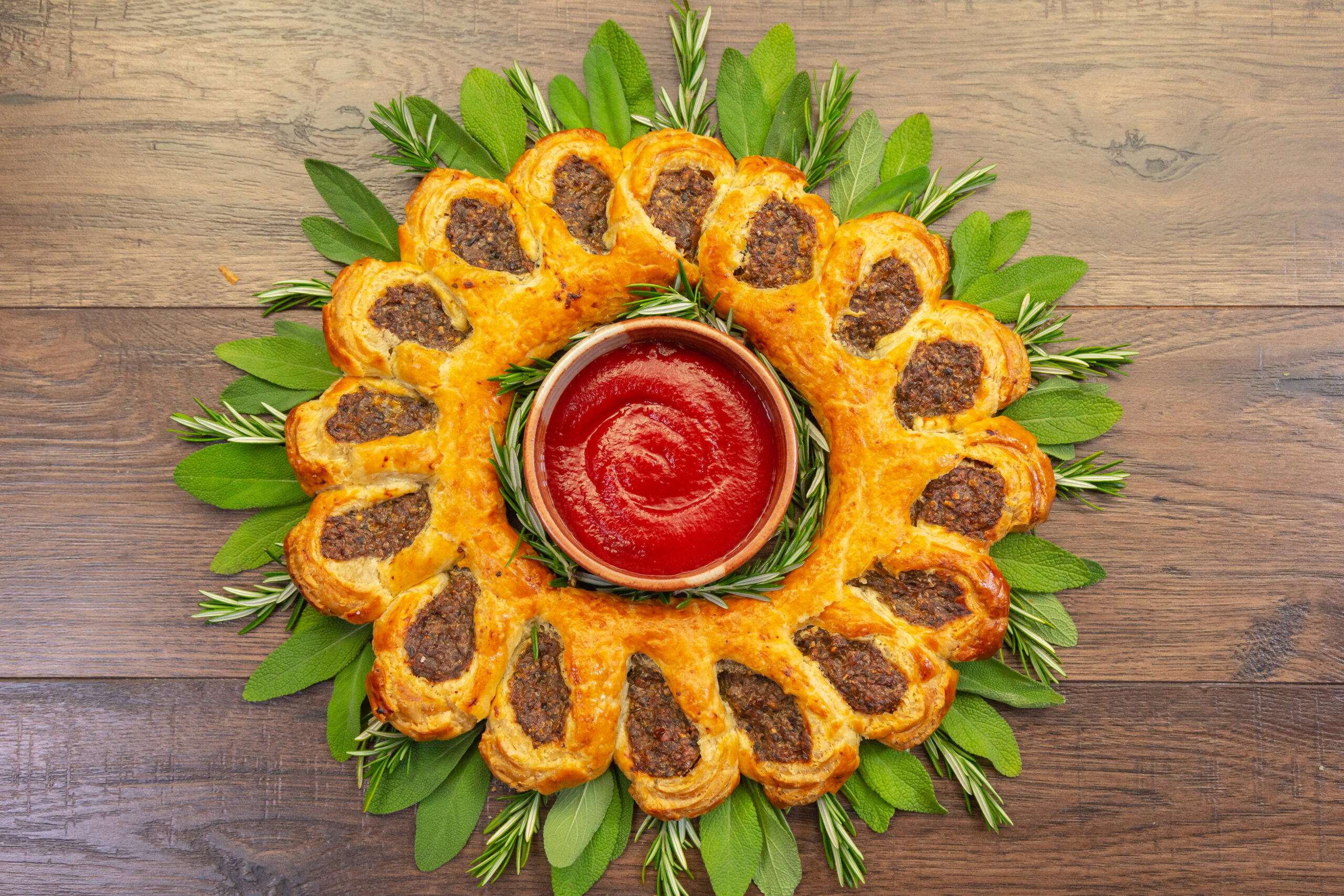 Ingredients
2 eggs (we love Woodland Eggs)
1 sheet ready-rolled flaky puff pastry (we love Paneton Bakery)
500g lamb mince (we love Pure South)
1 tbsp rosemary, finely chopped (we love Super Herb)
1/4 cup coating mix (we love Diamond Meals)

Himalayan Pink Salt & Pepper

1/8 cup Campo Viejo Rioja Wine

To Decorate And Serve:

Extra Rosemary

Chantal Organics Tomato Sauce
instructions
Step 1.

​Preheat the oven to 220C. Line a baking tray with baking paper.

Step 2.

Mix lamb mice, coat 'n cook, red wine, 1 egg, rosemary and salt and pepper. Combine well then place in freezer for 5 mins.

Step 3.

Unroll the pastry sheet. Make a line with the lamb mince along the middle of the pastry sheet. Make sure the meat gets right to the ends. Beat an egg, then brush the top of the pastry sheet with it.

Step 4.

Place the sausage roll onto the baking tray, seam-side-down and make into a ring. Join the ends together with egg wash.

Step 5.

Cut into the pastry to make small sausage rolls – cutting from the outside towards the middle, leaving the pastry in the middle of the ring intact. Twist each of the little piece 90 degrees so the filling is facing upwards.

Step 6.

Brush the pastry with remaining egg wash, then bake for 20-25 minutes or until the pastry turns golden.

Step 7.

Serve with rosemary and a generous pot of Chantal Organics tomato sauce in the middle of the wreath.
LOOKING FOR MORE RECIPE IDEAS?
Sign up for delicious recipes and sustainable living ideas (don't worry, we won't spam you and we never share your data!)
Chantal Organics Products used
Other recipes you may like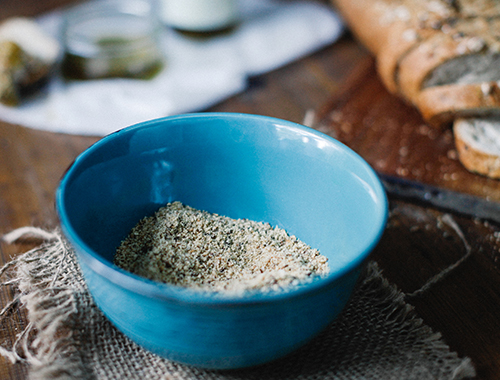 Homemade Dukkah
​Dukkah is a traditional Egyptian condiment made from a blend of nuts, herbs and spices. It's perfect as a dip with fresh bread and olive oil, rubbed over steak pre-cooking or sprinkled atop roast vegetables. We absolutely love this recipe from the lovely Tereza Poljanic.
Tasty Rice Salad with Charred Sweet Stem Broccoli & Coconut
​This tasty rice salad is a delicious vegetarian meal. We love the spicy coconut dressing over the yummy fresh greens and the nutty brown rice and quinoa. Yum!
Crispy Quinoa Tofu
​Quinoa makes the crispy but delicate crumb for this epic tofu dish. Tofu is high in protein, easy to digest and very versatile. This crispy tofu is the perfect veggie alternative for starters, snacks, lunches and party nibbles.