10 • minutes
6 • people
Easy
Homemade Dukkah
​Dukkah is a traditional Egyptian condiment made from a blend of nuts, herbs and spices. It's perfect as a dip with fresh bread and olive oil, rubbed over steak pre-cooking or sprinkled atop roast vegetables. We absolutely love this recipe from the lovely Tereza Poljanic.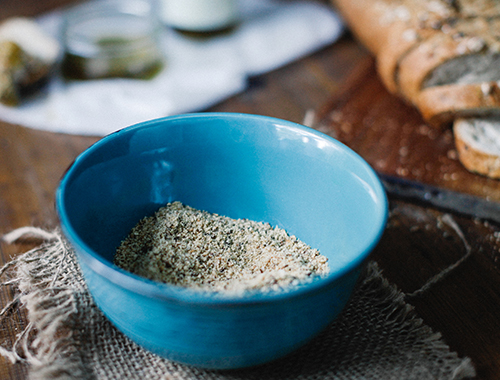 Ingredients
2/3 cup roasted hazelnuts

1/2 cup sesame seeds

2 tbsp coriander seeds

2 tbsp cumin seeds

2 tbsp black peppercorns

1 tsp Chantal Naturals Sea Salt Flakes
instructions
Step 1.

Place the hazelnuts into the bowl of a food processor and process until coarsely chopped then transfer to a larger bowl.

Step 2.

Heat a medium frying pan over medium heat. Add the sesame seeds and lightly toast, stirring, for 1-2 minutes or until golden. Add to the bowl with the hazelnuts.

Step 3.

Place coriander seeds and cumin seeds into the frying pan over medium heat, and toast, stirring frequently, for 1-2 minutes or until aromatic and seeds begin to pop. Transfer seeds to a mortar and pestle.

Step 4.

Pound until finely crushed (alternatively, use a coffee or spice grinder).

Step 5.

Add the crushed spices, pepper and salt to the hazelnut mixture and mix well before serving.
LOOKING FOR MORE RECIPE IDEAS?
Sign up for delicious recipes and sustainable living ideas (don't worry, we won't spam you and we never share your data!)
Chantal Organics Products used
Other recipes you may like
Tahini Dressing
​Sauces, condiments and dressings can be filled with hidden additives, preservatives, salt and sugar, so we always try to make our own. This Tahini dressing from whole foodie Tereza Poljanic, makes a tasty addition to salads, wraps and roasted vegetables.
Beetroot Hummus & Four Seed Crackers
​We're loving this healthy cracker and dip combo from the lovely Nicola Galloway. The addition of beetroot powder adds a hint of earthy sweetness to this flavoursome and creamy hummus, and the crackers are a delightfully crunchy gluten free option to dip.
Cottage Cheese & Almond Butter Dip
​This cottage cheese & almond dip goes perfectly with veggie sticks. We love it as a healthy snack or lunchbox treat.