20 • minutes
12 • sandwiches
Easy
Spider Cookie Ice Cream Sandwiches
These spider cookie ice cream sandwiches are not only cute and spooky, but they're fun for kids to help make. Perfect for Halloween or a fun birthday treat. Don't worry – they're delicious for grown-ups too!
Ingredients
For the Cookies:

125g unsalted butter (we love Mainland)

200g brown sugar

300g Chantal Organics Classic Smooth Peanut Butter

1 large egg (we love Woodland)
1 tsp vanilla extract (we love Heilala)

225g Chantal Organics White Flour

1 tsp Chantal Organics Baking Powder

To Assemble

salted caramel & cashew ice cream (we love Kapiti)

12 Reese's pieces peanut butter cups

24 small white round lollies, such as tic-tacs

Licorice, pulled into long strips

Dark chocolate, melted (we love Loving Earth)
instructions
Step 1.

In a stand alone mixer or bowl with an electric whisk, mix the sugar and butter until light and fluffy. Add an egg mixing vigorously, then peanut butter and vanilla extract. Sift in flour, baking powder and salt and fold to incorporate.

Step 2.

Refrigerate cookie dough for thirty minutes.

Step 3.

Preheat oven to 180C.

Step 4.

Line two baking trays with baking paper. Remove cookie dough from fridge then scoop tablespoon amounts of dough for each cookie. Roll each spoonful into a ball then flatten with a wet fork, leaving a little space in between each cookie on the baking tray.

Step 5.

Bake for 18-20 minutes until golden. Set aside to cool.

Step 6.

To make the spiders: Pour your melted chocolate into a piping bag (or fill a ziplock and cut a tiny hole in one corner). Dot pupils on the white round lollies to make eyes, then stick the eyes to the upside down peanut butter cups with the melted chocolate. Draw 8 legs onto the flat side of cooled cookies with melted chocolate, place the spider head in the middle, then stick the licorice legs on top of the melted chocolate.

Step 7.

Scoop the ice cream into 12 balls. Sandwich the ice cream between two cookies, with the spider cookie on top. Eat straight away or store in the freezer. Fun!
LOOKING FOR MORE RECIPE IDEAS?
Sign up for delicious recipes and sustainable living ideas (don't worry, we won't spam you and we never share your data!)
Chantal Organics Products used
Classic Smooth Peanut Butter
Other recipes you may like
Chocolate Easter Waffles
This salty, sweet, honey and sesame creation is a unique show stopper, sure to inspire your dinner party guests!
Ricotta & Banana Toast with Chocolate Almond Butter
​This ricotta and banana brekkie with chocolate almond butter may be your new favourite way to start the day. Best of all… you can whip this up in under ten minutes.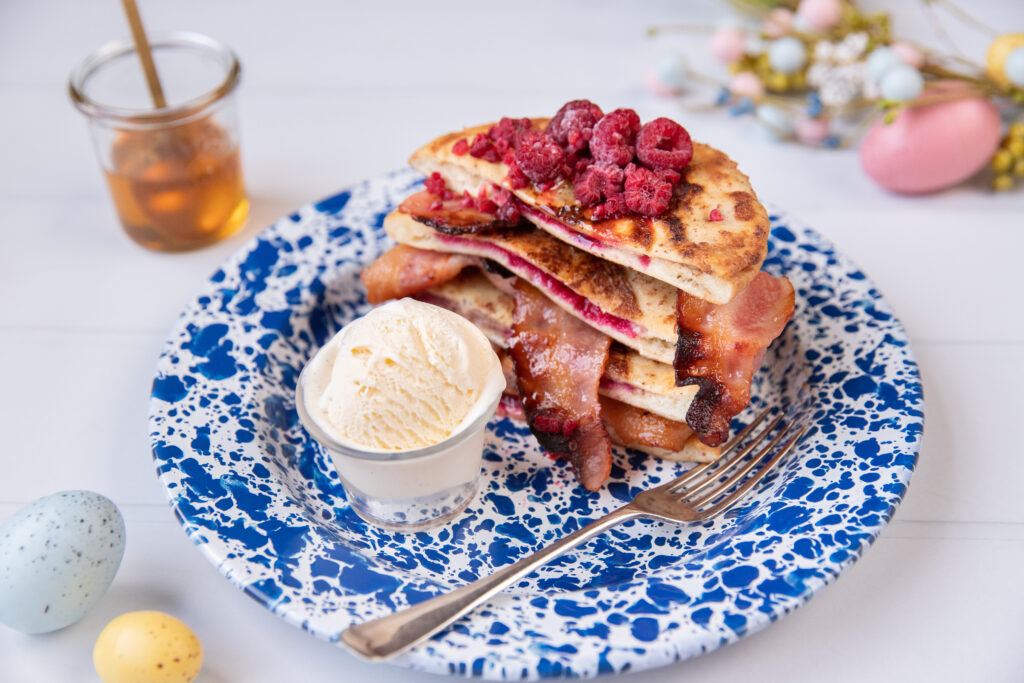 Easter Pita French Toast
A lovely twist on the classic French toast! Perfect for Easter made with pita breads filled with mixed berries and paired with the tasty & salty bacon. Serve with some good quality vanilla ice cream to complete the ultimate Easter breakfast treat with family. Happy Easter!