10 • minutes
2-4 • people
Not too hard!
Casablanca Couscous salad
A tasty Moroccan themed salad recipe that pairs well with koftas, chicken, or falafel. It's fast and easy to make and will surely be a winner for your dinner or lunch guests.
Ingredients
Couscous salad

1 packet (200g) Moroccan Couscous (we love Diamond Meals)

1 cup water, boiling

¼ cup orange juice

zest from 1 orange

5 Medjool Dates, roughly chopped, stone discarded (we love Fresh Life)
⅓ cup Natural Almonds, chopped and lightly toasted (we love Fresh Life)
½ cup Mint, roughly chopped (we love Superb Herb)
1 can(400g) Chantal Organics Chickpeas, rinsed and drained

½ red onion, chopped finely

100g spiralized beetroot and carrot

100g baby spinach

3 tbsp Chantal Organics Extra Virgin Olive Oil

To serve

Lamb Koftas (optional)
200g hummus (we love this Garlic & Lemon Hummus)

1 tbsp Chantal Organics Extra Virgin Olive Oil

¼ cup Italian Parsley (we love Superb Herb)
2 tbsp Dukkah (we love this Homemade Dukkah)

Lemon wedges

Salt and pepper to taste
instructions
Step 1.

Pour couscous and the flavouring into a medium sized heatproof bowl. Add boiling water, orange zest and juice. Cover and leave to stand for 5 minutes. Fluff with a fork to separate the grains. Leave to cool for 10 minutes.

Step 2.

Toss all salad ingredients in a large bowl until just combined.

Step 3.

Serve couscous salad with koftas and hummus to complete this meal. Sprinkle Italian parsley leaves on top. Drizzle Olive Oil over the top. Season with salt, pepper and dukkah.

Tip:

If preparing this meal for lunch at work, place hummus on the bottom of your lunch box, followed by couscous, then the other salad ingredients, koftas, then Italian parsley. Keep the oil separate and add to the salad when you're ready to eat. This will stop the salad wilting.
LOOKING FOR MORE RECIPE IDEAS?
Sign up for delicious recipes and sustainable living ideas (don't worry, we won't spam you and we never share your data!)
Chantal Organics Products used
Other recipes you may like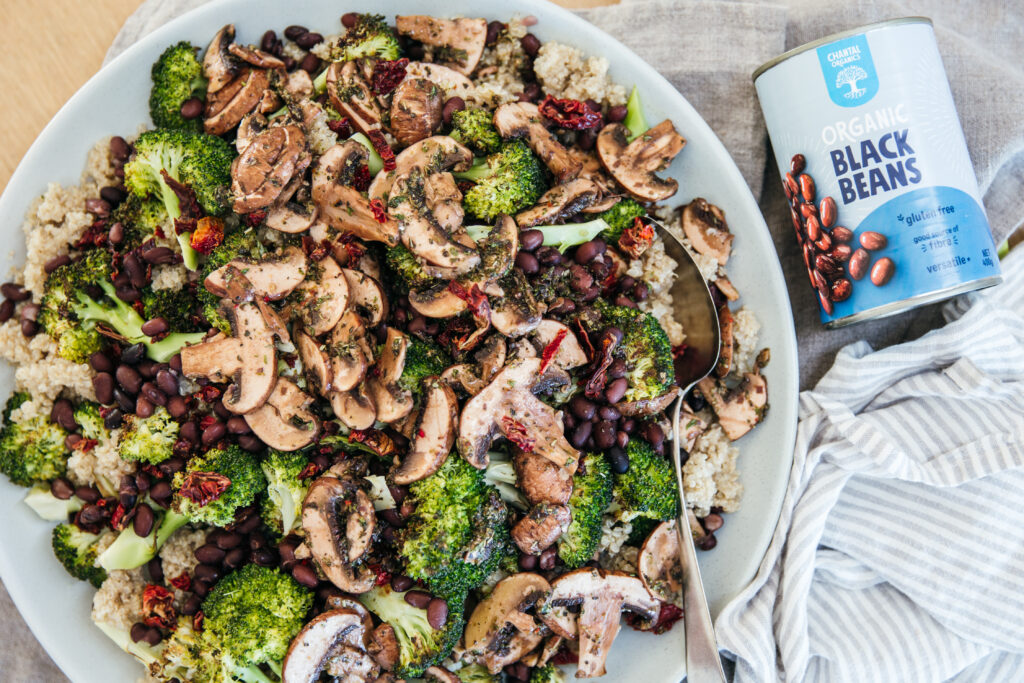 Black Bean & Broccoli Quinoa Salad with Marinated Mushrooms
This nutritious black bean salad can be made year-round with its easily sourced ingredients, and is packed with healthy fats, protein, and fibre.
Indian Spiced Cauliflower and Tahini Yoghurt Couscous Salad
​Subtly spiced cauliflower and chickpeas mixed with fresh spinach, couscous, raisins, almonds and fresh herbs then lathered in tahini yoghurt. This is the perfect warm winter salad to feed the whole family.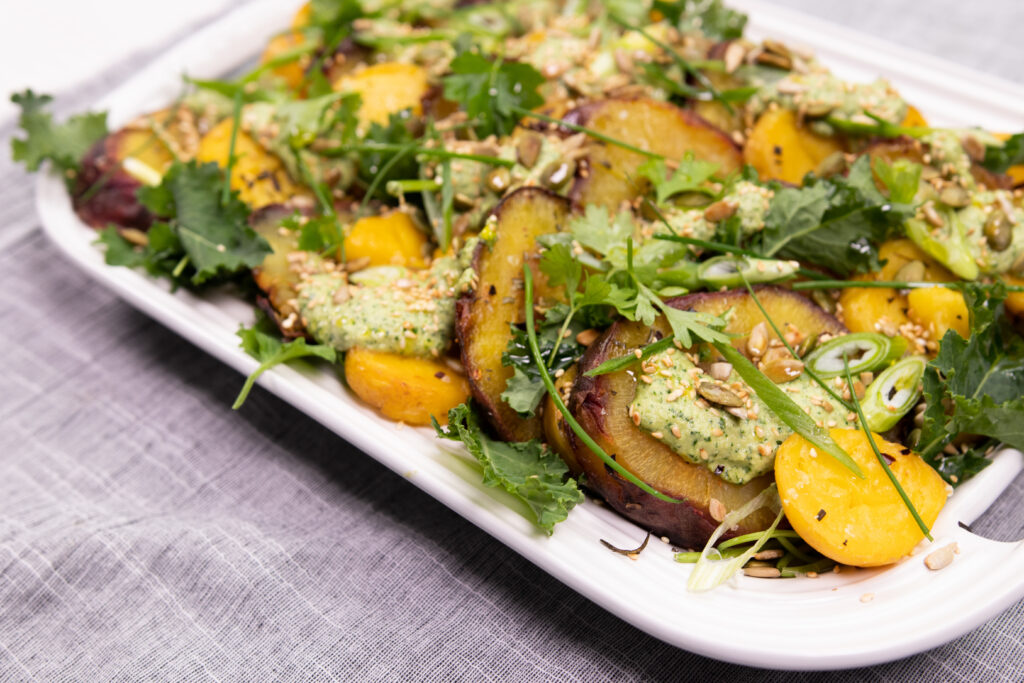 Vegan Potato Salad with Green Cashew Cream
A simple yet delicious salad, perfect as a side or for a dinner party. You will love the crispiness of the potatoes and kumara and this vegan dressing will quickly become one of your favourites!