60 • min
4
Not too hard!
Christmas Roast Chicken
Make Christmas easy and healthy with this super simple roast chicken with quinoa, cranberry and almond salad. It's full of wholesome, nutritious and delicious ingredients to leave you feeling satisfied. It's completely gluten free, dairy free and refined sugar free.
Ingredients
For the chicken

1 roast chicken

4 garlic cloves

1 lemon

½ bunch thyme

½ bunch rosemary

Chantal Organics Extra Virgin Olive Oil

Salt and pepper

For the salad

1 cup Chantal Organics White Quinoa

1 head of broccoli

2 cups spinach

1 cup slithered almonds

1 cup cranberries

1 tbsp Chantal Organics Coconut Oil

Salad dressing

1 tbsp Chantal Organics Tahini Hulled

1 tbsp balsamic vinegar

Juice from 1 juicy lemon

2 tbsp Chantal Organics Extra Virgin Olive Oil

1 teaspoon Chantal Organics Creamed Honey

Salt and pepper to taste
instructions
Step 1.

Preheat oven to 200 degrees celcius.

Step 2.

Carefully prick the lemon all over, using a sharp knife. Put the garlic cloves, herbs and lemon into the chicken's cavity and place the chicken into a roasting tray. Drizzle with olive oil, salt pepper and add some additional chopped herbs on top.

Step 3.

Place the tray in the oven for 1 hour 20 minutes.

Step 4.

Baste the chicken halfway through cooking.

Step 5.

When the chicken is cooked, take the tray out of the oven and transfer the chicken to a board. Carve your chicken and place onto a serving platter.

For the salad

Step 1.

Cook the quinoa according to the packet instructions, then drain.

Step 2.

Melt coconut oil in a medium sized fry pan and add broccoli. Cook for 5 minutes until bright green and tender (not over cooked).

Step 3.

To made the dressing add all ingredients into a cup or small bowl and mix together until well combined.

Step 4.

Roughly chop or break the spinach with your hands. Add quinoa, broccoli, spinach, almonds and cranberries to a large bowl. Pour over the dressing over the salad and toss ingredients together. Put salad onto a large serving platter.
LOOKING FOR MORE RECIPE IDEAS?
Sign up for delicious recipes and sustainable living ideas (don't worry, we won't spam you and we never share your data!)
Chantal Organics Products used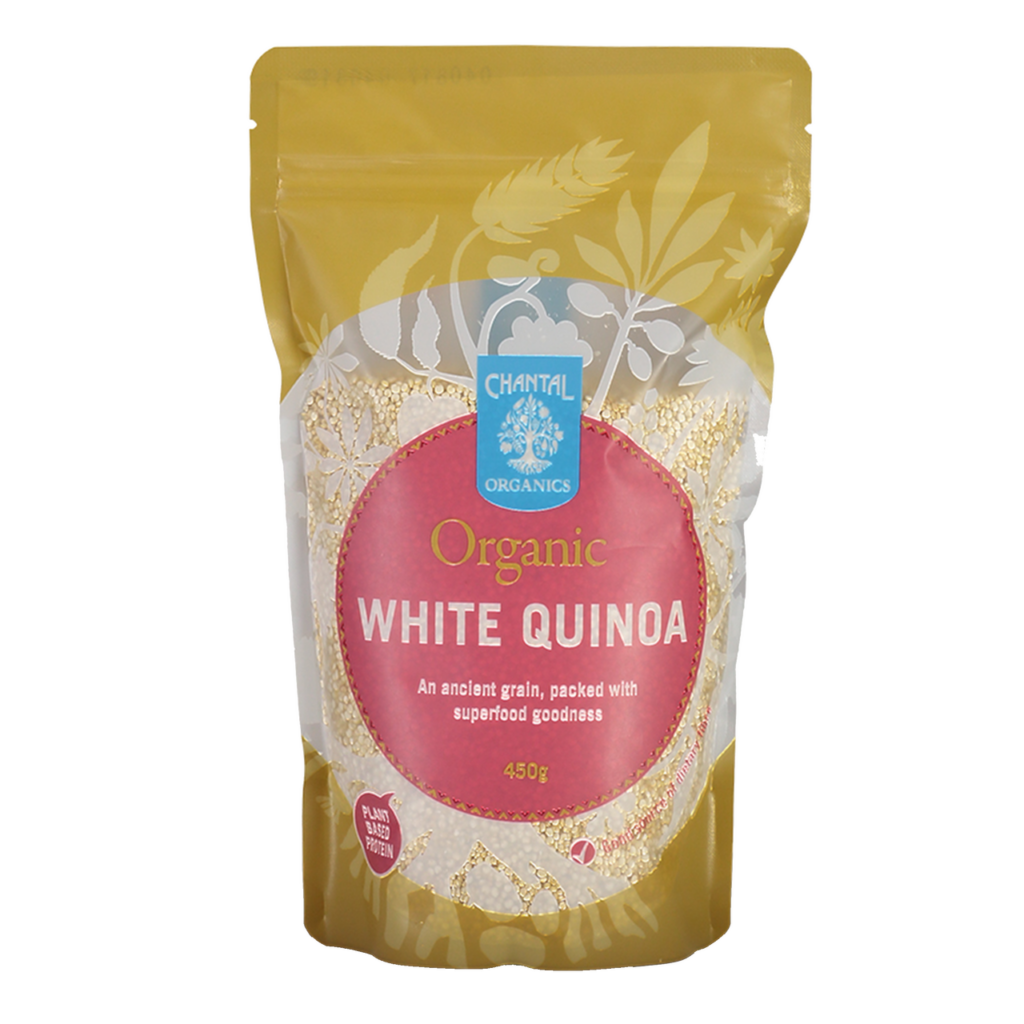 Other recipes you may like
Herby Ricotta Stuffed Chicken Breast
​Succulent stuffed chicken has never been easier. Make our simple ricotta stuffed, bacon wrapped chicken breast and satisfy everyone at the dinner table.
Coconut Lemongrass Roast Chicken
How about this fragrant Thai inspired roast chicken for your family dinner this Sunday? The sweet and nutty coconut milk infused with fragrant lemongrass, kaffir lime leaf, ginger and garlic makes this chicken an absolute winner!
Herby Lemon Roast Chicken & Lentil Salad
Enjoy the home comforts of roast chicken with this healthy salad. Perfect for dinner, with lots of leftovers for work lunches the next day!