30 • minutes
10 • serves
Easy
Christmas-Spiced Figgy Granola
This muesli is inspired by the flavours of Christmas, including cinnamon and ginger. It is sweetened naturally with honey,  dried figs and cranberries.  A yummy breakfast to enjoy with fresh seasonal berries and creamy yoghurt in the lead-up to Christmas!
Ingredients
2 tsp Chantal Organics Coconut Oil

1/4 cup honey

1 tsp cinnamon

1 tsp ground ginger

1 tsp vanilla essence

2 1/2 cup Chantal Organics Old Fashioned Rolled Oats

3/4 cup Chantal Organics Desiccated Coconut

1/2 cup sultanas

1/2 cup goji berries

1/2 cup roasted almonds

1/2 cup cranberries

6 dried figs
instructions
Step 1.

Preheat the oven to bake 160 degrees celsius.

Step 2.

Add to a stove pot the coconut oil, honey, cinnamon, ginger and vanilla essence. Melt over a low heat, stirring continuously.

Step 3.

Add oats to a large mixing bowl, and then pour over honey oil mixture. Toss oats evenly through until well coated.

Step 4.

Spoon onto a lined baking tray and evenly distribute. Place in the oven for 12-15 minutes, until it starts to turn golden. Open the oven every five minutes or so during baking to toss oats around, so the oats evenly colour.

Step 5.

While the oats are in the oven, prepare the rest of the ingredients - finely slice dried fruit into bite-sized pieces, and chop almonds in half.

Step 6.

Once the oats are cooked, remove from oven and allow to cool for 10 minutes. Toss through sliced fruit, coconut, goji berries and chopped almonds. Store in an airtight container or jar.

Serving suggestions

Enjoy 1/2 cup of granola as a serving with a few tbsp of your favourite yoghurt, fresh fruit and your milk of choice.
LOOKING FOR MORE RECIPE IDEAS?
Sign up for delicious recipes and sustainable living ideas (don't worry, we won't spam you and we never share your data!)
Chantal Organics Products used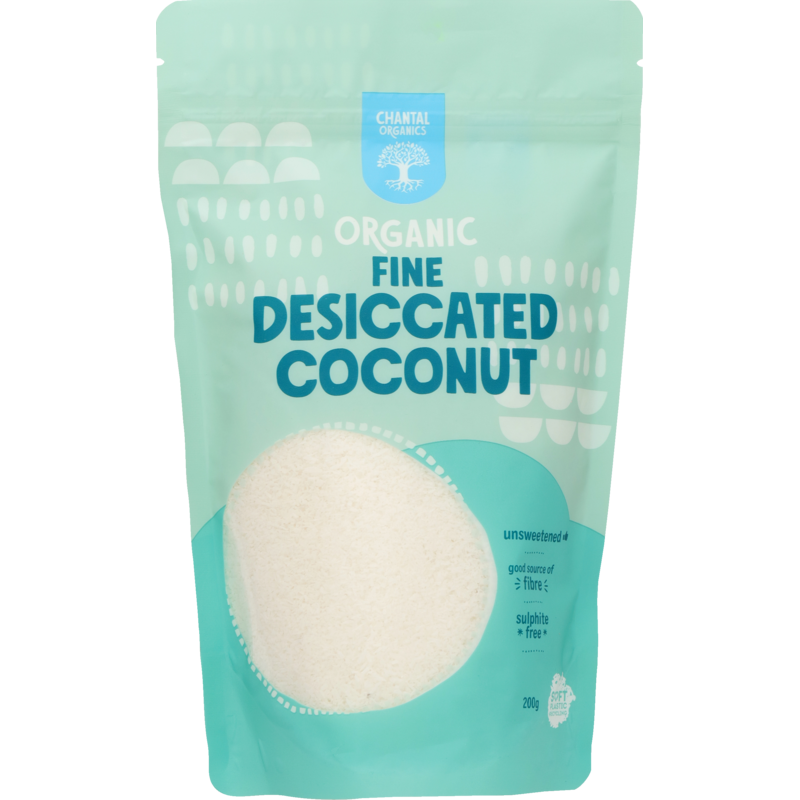 Old Fashioned Rolled Oats