20mins • prep •
12 • bombs
Easy
Cacao & Coconut Keto Chocolate Bombs
Making your own sugar free Easter treats couldn't be easier with this simple recipe for keto chocolate bombs, using Chantal Organics Cacao & Coconut Keto Granola. Smooth sugar free chocolate encases crunchy coconut, nuts and seeds – full of plant-based protein and fibre.
Ingredients
Base

250g keto (sugar-free) chocolate

A silicone easter egg mold, but you could also use a silicone cupcake mold or paper cupcake cases.
instructions
Step 1.

Melt the chocolate: either in a microwave for 30 seconds bursts until melted, or in a heat proof bowl set over a bowl of steaming water.

Step 2.

When chocolate is melted, stir in melted coconut oil until well combined.

Step 3.

Pour a little melted chocolate into the bottom of each mold cup.

Step 4.

Sprinkle the granola evenly into the cups, then pour the remaining chocolate over the top, ensuring the granola is fully covered.

Step 5.

Place the filled mold in the fridge or freezer to set for an hour.

Step 6.

When the chocolate is fully set, pop the chocolate keto bombs out of the mold and enjoy.

Storage

Store your chocolate keto bombs in the fridge or freezer for up to 2 months.
LOOKING FOR MORE RECIPE IDEAS?
Sign up for delicious recipes and sustainable living ideas (don't worry, we won't spam you and we never share your data!)
Chantal Organics Products used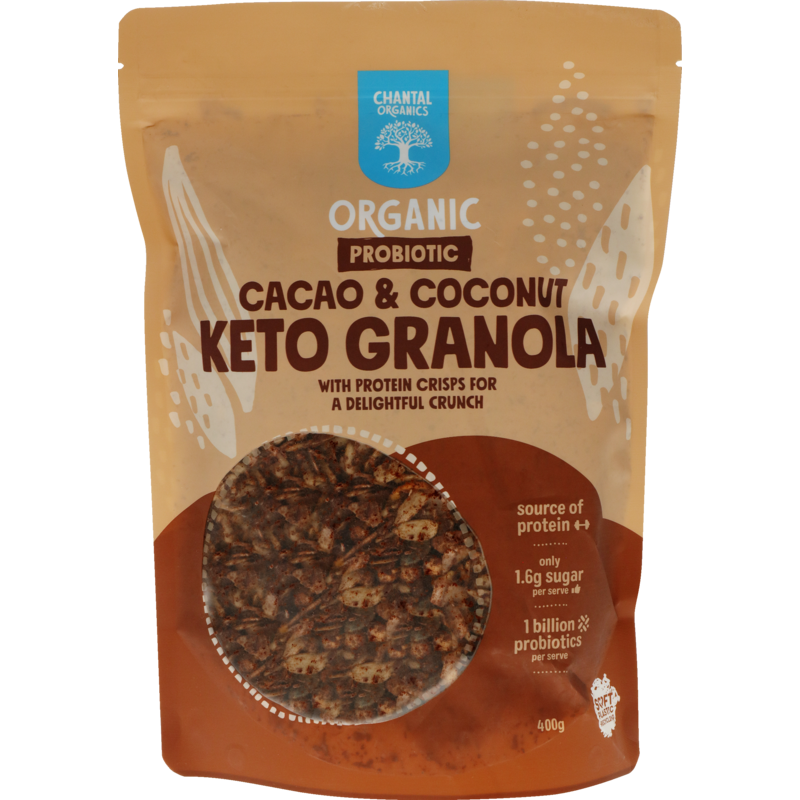 Probiotic Cacao & Coconut Keto Granola