10 • minutes
2-4 • people
Easy
Peanut Butter & Cinnamon Caramel Popcorn
​A dairy, gluten and refined sugar free caramel popcorn recipe. The sweetener you choose will change the flavour of the caramel. Pure maple syrup creates the most indulgent caramel flavour, honey gives it a true honey flavour, and rice syrup is the least sweet creating a milder caramel flavour.
Ingredients
​Popcorn

1/3 cup Organic Popcorn

3 Tbsp Chantal Organics Coconut Oil

Peanut Butter Caramel

4 Tbsp Chantal Organics Smooth Peanut Butter

3-4 Tbsp Chantal Organics Rice Syrup

2 Tbsp Chantal Organics Coconut Oil

2 tsp cinnamon

1 tsp Fine Sea Salt
instructions
Step 1.

Follow the instructions on the back of the Chantal Organics popcorn packet to pop 1/3 cup popcorn in 3 Tbsp coconut oil. Transfer the popped corn to a large mixing bowl.

Step 2.

Preheat the oven to 180ºC fan bake and line 2 baking trays.

Step 3.

Place all the caramel ingredients into a small pan and stir over low heat until melted.

Step 4.

Pour the caramel sauce over the popcorn and use a spatula to fold it through.

Step 5.

Spread the caramel coated corn over the two baking trays and place into the oven for 5 to 10 minutes, or until the caramel starts to bubble and turns golden.

Step 6.

Remove the caramel corn from the oven and allow to cool - the caramel will harden as it cools.

Step 7.

Store in an airtight container at room temperature for up to 1 week.
LOOKING FOR MORE RECIPE IDEAS?
Sign up for delicious recipes and sustainable living ideas (don't worry, we won't spam you and we never share your data!)
Chantal Organics Products used
Salted Caramel Nut Butter with Maca
Classic Smooth Peanut Butter
Other recipes you may like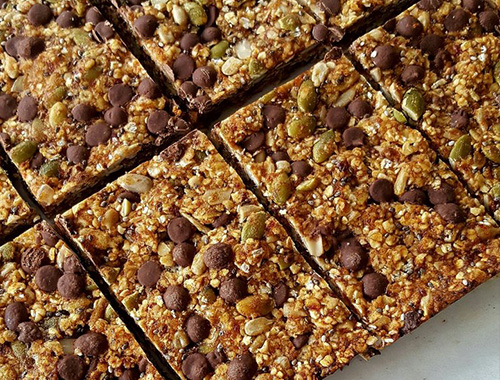 Seedy Chocolate Chip Muesli Bars
Loaded with good-for-you ingredients these seedy chocolate muesli bars are not only ridiculously delicious, they are loaded with fibre and healthy fats to give you lasting energy. Not only tasty, this recipe is seriously so easy – total win all around!
Vegan Seeded Superfood Protein Bars
These no-bake bars are packed with plant-based protein and omegas found in the superseed – hemp. Fresh dates give them a subtle and nourishing sweetness that is scrumptious and so satisfying. They are perfect for after a workout, in school lunchboxes, or even as breakfast on-the-go.
Pumpkin & Oat Muffins
​These muffins are wheat, refined sugar and dairy free. Here you can be creative – adding just about anything to this base recipe. They're delicious served warm and spread with coconut oil and a drizzle of tahini. We can't get enough of these nutritious treats for morning and afternoon tea.