20 • minutes
8 • wings
Easy
Korean Fried Chicken
This sticky, yet crispy Korean fried chicken is the ultimate comfort food. It is super simple to make. Marinade the chicken in seasoned buttermilk overnight to get it super tender and delicious. Chicken so good we fried it TWICE!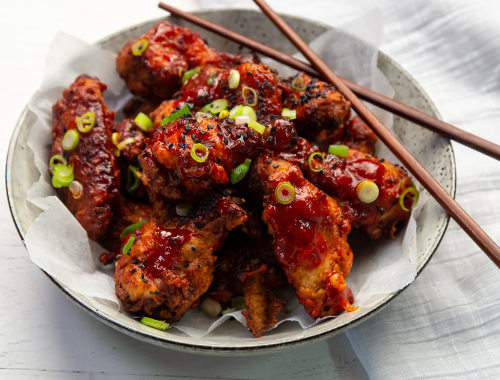 Ingredients
For the Chicken Marinade

8 free-range chicken wings - cut in halves (we love Waitoa)

200ml buttermilk

1 tbsp Chantal Organics Sea Salt Fine

White pepper

For the coating

4 tbsp Chantal Organics White Flour

2 tbsp potato flour

2 tbsp Chantal Organics White Rice Flour

Oil for frying

For the Korean Barbecue Sauce

2 tbsp Chantal Organics Tomato Sauce

2 tbsp sriracha

2 heaped tbsp gochujang

4 tbsp rice wine vinegar

4 tbsp golden sugar

2.5cm piece fresh ginger, minced

1 tsp Chantal Organics Sesame Oil Toasted

For garnish

2 spring onions, green part only thinly sliced

Black sesame seeds
instructions
Step 1.

Place buttermilk in a large bowl. Season the buttermilk with salt and plenty of white pepper. Add chicken wings and combine well. Cover and leave to marinade in the refrigerator for at least 3 hours, preferably overnight.

Step 2.

In another bowl, mix white flour, potato flour and rice flour. Take the excess marinade off the chicken pieces with your hands and coat them with the flour mixture.

Step 3.

Heat oil in a deep fryer or a large saucepan to 140C. Fry the chicken wings for 10-12 minutes until cooked through. Take them out on kitchen towel. Set aside. The chicken should be cooked but still white outside.

Step 4.

Heat the oil in a wok. Once the oil is hot (170C for veges, 180C for prawns), dust veggies and prawns in flour then quickly dip in the batter. Carefully slide in the hot oil to cook until the ingredients are cooked through and the batter becomes crispy and slightly golden.

Step 5.

While the chicken is cooking for the first time, make the Korean Barbeque Sauce. In a saucepan mix tomato sauce, sriracha, gochujang, rice wine vinegar, ginger and sugar. Heat to boil, then simmer for a few minutes to thicken. Remove from the heat. Add and sesame oil.

Step 6.

Increase the oil temperature in the deep-fryer to hot - at least 190C. Fry the chicken again for 3-5 minutes until golden and crispy. Drain the chicken on a piece of kitchen towel.

Step 7.

In a bowl, pour 1/3 of the sauce over the chicken. Toss to coat.

Step 8.

Place the chicken in a serving dish. Pour remaining sauce, garnish with spring onion and sesame seeds. Serve with plenty of serviettes. Enjoy!
LOOKING FOR MORE RECIPE IDEAS?
Sign up for delicious recipes and sustainable living ideas (don't worry, we won't spam you and we never share your data!)
Chantal Organics Products used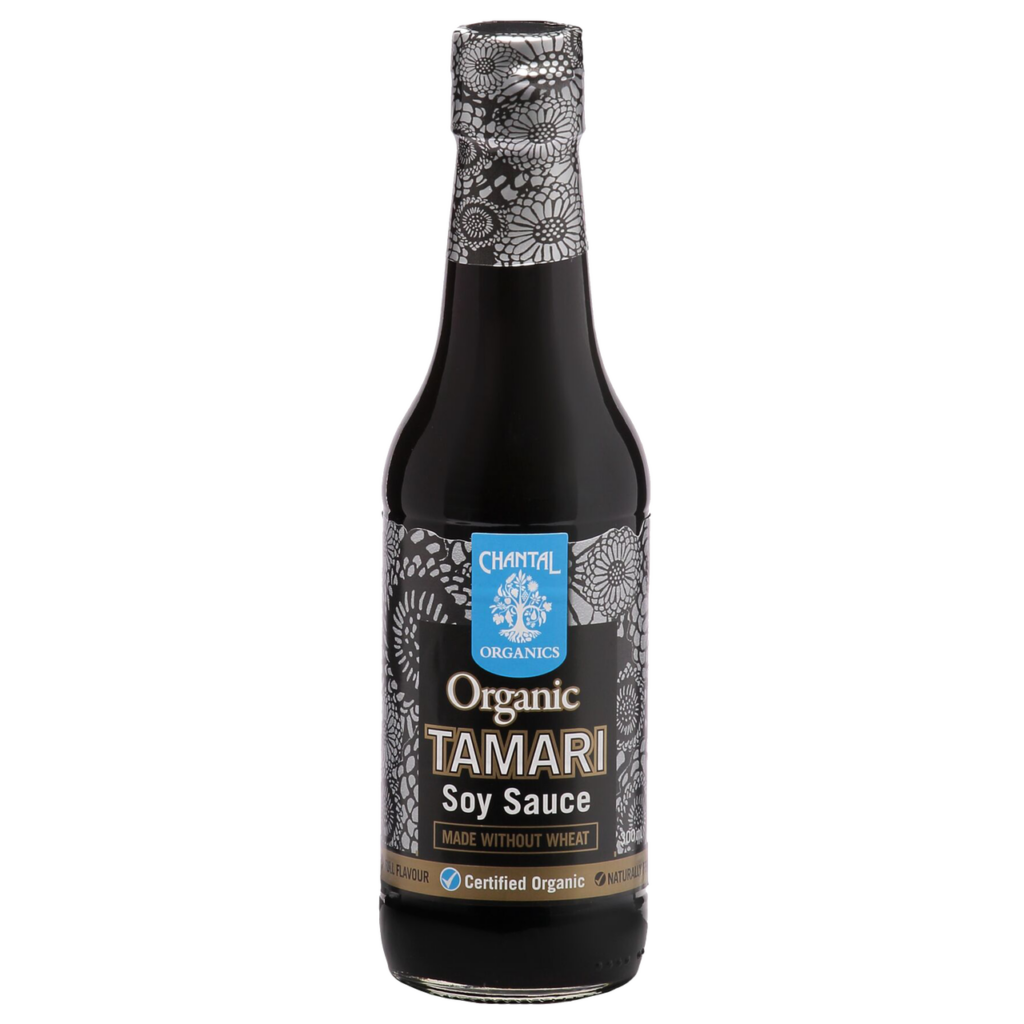 Other recipes you may like
Shiitake Gyoza with Stir-fried Pak Choy
​Gyoza is a Japanese style dumpling. These shiitake gyozas are succulent and juicy, packed full of shiitake mushroom umami. Serve with some fresh stir fried pak choy.
BBQ Japanese Meat Skewers
Our BBQ Japanese Meat Skewers are inspired by Japanese yakitori (yakitori literally means grilled chicken). We just love the strong marinade flavours. Cook these on the barbie before the big game to seriously impress your guests!
Tempura Medley With Dipping Sauce
Having friends over? Why not impress them with a homemade tempura medley and this divine dipping sauce. Tempura is a Japanese dish where vegetables and seafood are covered in a cold batter and deep fried quickly.