60 • minutes
2-3 • serves
Not too hard!
Buckwheat Pizza
A healthier alternative to traditional pizza, made with buckwheat flour, and topped with a middle eastern inspired mix of freshly made hummus and drizzled with our tasty black tahini.
Ingredients
Base

1 cup Chantal Organics Buckwheat Flour

½ cup oat flour

1 sachet yeast

1 cup warm water

1 tsp unrefined sugar

1 tsp garlic powder

1 tsp mixed herbs

1 tbsp flax seed meal

Hummus

1 can of Chantal Organics Chickpeas

3 Tbsp of Chantal Organics Tahini Whole

Juice of one lemon

1 bulb of garlic

1 tsp of cumin

½ tsp Chantal Organics Fine Sea Salt

½ tsp of pepper

Parmesan

½ cup raw brazil nuts

¼ cup nutritional yeast

½ tsp garlic powder

Toppings

Eggplant

Courgette

Cherry Tomatoes

Chantal Organics Black Tahini

Sea salt and pepper
instructions
Pizza Base

Step 1.

Preheat oven to 190 degrees celcius.

Step 2.

Mix together yeast, sugar, and warm water in a bowl. Leave for 5 minutes until it becomes frothy.

Step 3.

Combine other dry ingredients in a different bowl and slowly pour in the yeast mixture while stirring continuously until it forms a ball. If it is too wet, add more flour, and if it is too dry, add more water.

Step 4.

Place the ball into a greased bowl, cover with beeswax wrap and put in a warm place until it doubles in size (around 40 minutes).

Step 5.

Meanwhile, make the hummus and parmesan.

Hummus

Step 1.

Drain and rinse the chickpeas, and save a couple of tablespoons of the chickpea liquid.

Step 2.

Place chickpeas and liquid into a food processor with the other ingredients.

Step 3.

Blend on high until smooth, scraping down the sides part way through to make sure everything is combined.

Parmesan

Put all ingredients into a dry food processor and blitz until it forms a crumb like consistency.

Pizza

Step 1.

After 40 minutes, remove the wrap and punch the dough to remove air.

Step 2.

On a floured surface knead the dough for 2-3 minutes. Then use a rolling pin to roll in into a circular shape. *

Step 3.

8. Place on a lined tray and a layer of hummus over top. Slice the veggies into thin rounds and arrange on top of hummus. Sprinkle a generous layer of the nut parmesan over top.

Step 4.

9. Bake for 25-30 minutes until the veggies are cooked and the base is lightly browned and crispy.

Step 5.

10. Remove from oven and top with a generous drizzle of black tahini and a crack of salt and pepper.

*

If making a square pizza like the one pictured, then place the dough into the lined tray and push out the edges until it reaches the sides.
LOOKING FOR MORE RECIPE IDEAS?
Sign up for delicious recipes and sustainable living ideas (don't worry, we won't spam you and we never share your data!)
Chantal Organics Products used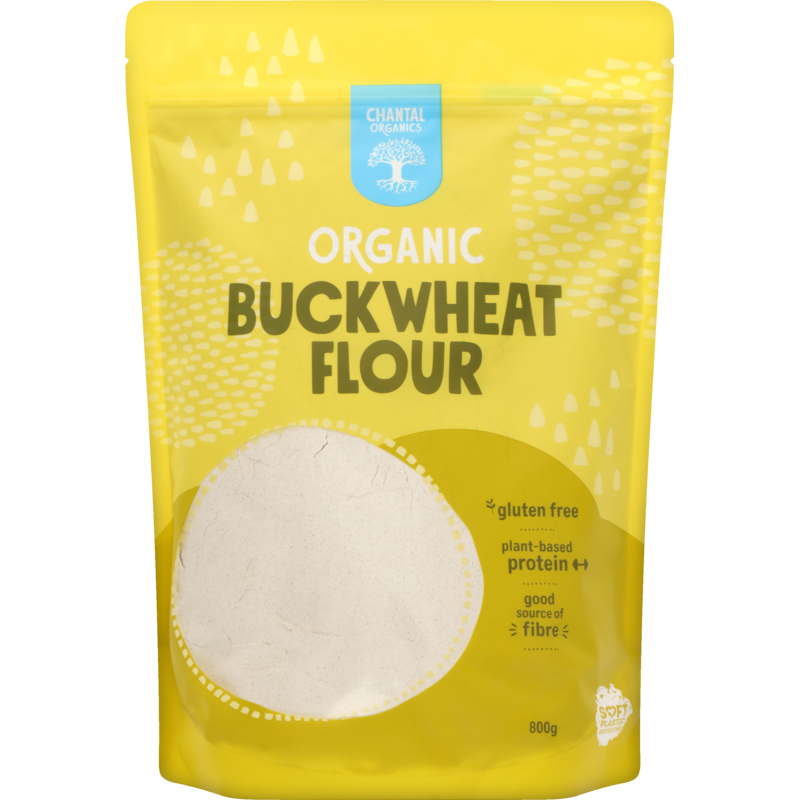 Other recipes you may like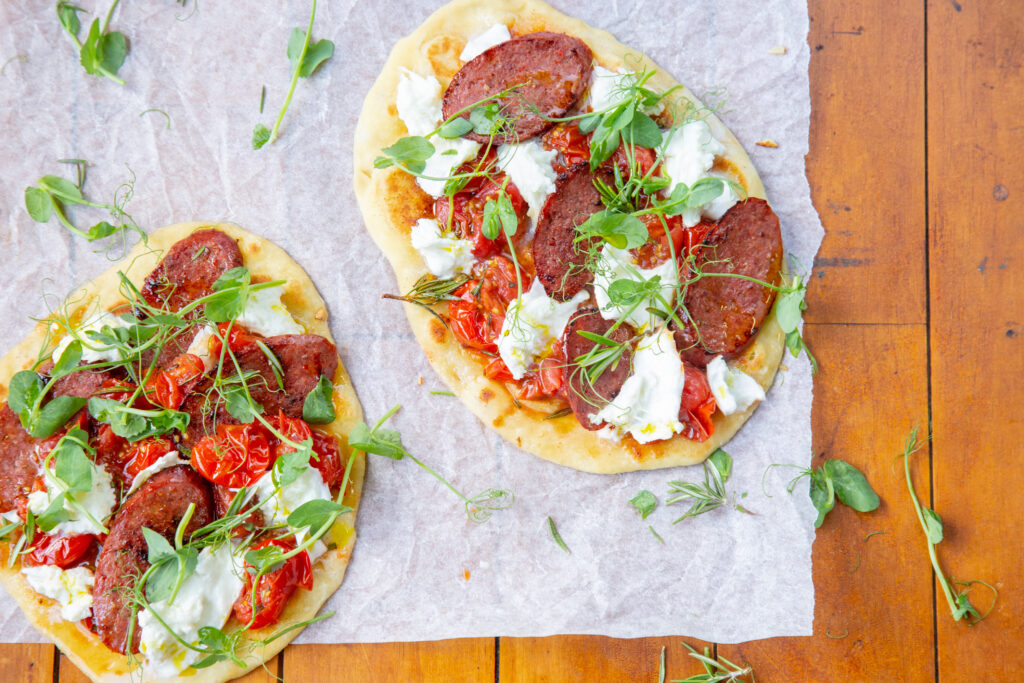 Salami, Tomato and Rosemary Flatbread
This is an easy and delicious flatbread recipe uses a base of good flour, good yogurt and good oil, that's it! Once you make this you will get hooked. Great served soft topped with tasty salami, tomato and herbs, oh and don't forget the garlic butter!
Vietnamese Tofu Turmeric Pancakes
Fans of healthy Asian Cuisine will love these colourful Vietnamese pancakes stuffed with tofu, vegetables and herbs. They are easy to make and vegan friendly.
Baked Tofu Shish Kebabs
Don't let the name or ingredient list scare you… these baked tofu shish kebabs are super easy to prepare and make a mouthwatering vegetarian meal for the whole family.