50 • minutes
1 • loaf
Medium
Paleo Grain Free Bread
​Reducing the amount of grains you eat, doesn't mean you have to give up bread.  Try this delicious grain free alternative made with pantry staples. You'll be surprised how easy it is to make!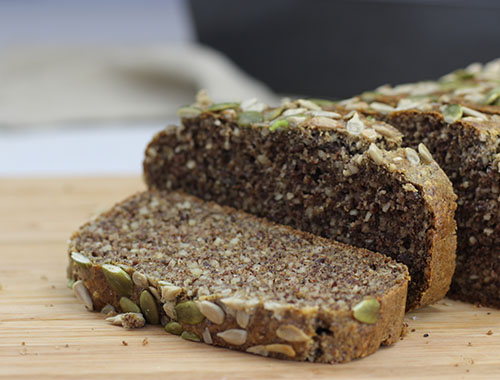 Ingredients
​2 cups ground almonds

¼ cup of ground flaxseeds + an extra 1 tbsp whole flaxseeds

1 tbsp sesame seeds

½ tsp sea salt

1 tsp baking soda

½ cup arrowroot powder

3 tbsp Chantal Organics Coconut Oil, melted

3 eggs

1 teaspoon Chantal Organics Apple Cider Vinegar

½ cup Chantal Organics Coconut Milk
instructions
Step 1.

Place a ¼ of a cup of brown flaxseed into a blender and blend into a fine powder. Second, add the almonds to the blender and blend into a medium-fine texture.

Step 2.

Mix together the almond, ground flaxseed, sesame seeds, 1 tablespoon of whole flaxseeds, salt, baking soda and arrowroot powder.

Step 3.

In a separate bowl whisk together melted butter or coconut oil, eggs, apple cider vinegar and coconut milk.

Step 4.

Using a rubber spatula, carefully fold the wet ingredients into the dry ingredients. Pour mixture into a lined loaf tin and bake at 180 degrees for approximately 35-40 minutes, until a skewer inserted into the loaf comes out clean.

Step 5.

Leave the loaf on a wire rack to cool before slicing.

Serving suggestion

Serve with your favourite nut butter, avocado & tomato or a generous dollop of jam.
LOOKING FOR MORE RECIPE IDEAS?
Sign up for delicious recipes and sustainable living ideas (don't worry, we won't spam you and we never share your data!)
Chantal Organics Products used