10 • minutes
2 • people
Easy
Hemp Protein Pancakes
​These vegan pancakes are easy to make, give you a boost of plant-based protein and are delicious with a drizzle of apple syrup. Take leftovers to work with you and pop in the toaster for morning tea or even snack on them cold.
Ingredients
1 cup Isola Bio Almond Milk OR Isola Bio Coconut Supreme (we love Isola Bio)

3 Tbsp ground flaxseed (or linseeds)

1 Tbsp Chantal Organics Olive Oil

1 tsp honey

1/2 cup Chantal Organics Hemp Protein Powder

¼ cup almond flour

¼ cup buckwheat flour or brown rice flour

1/2 tsp Chantal Organics Baking Powder

¼ tsp Chantal Naturals Sea Salt Fine

¼ tsp cinnamon powder

Chantal Organics Coconut Oil for frying

Chantal Organics Apple Syrup for drizzling
instructions
Step 1.

In a medium bowl, whisk together the almond milk, ground flaxseed, olive oil, and honey. Set aside.

Step 2.

In another bowl, whisk together the hemp protein, almond flour, brown rice flour, salt, baking powder and cinnamon.

Step 3.

Add the wet ingredients to the dry ingredients and whisk together.

Step 4.

Allow the batter to sit for a few minutes, this allows it to thicken.

Step 5.

Heat a spoonful of coconut oil in a heavy based fry pan over medium low heat. Be sure to use a non-stick pan or plenty of oil, otherwise the pancakes will stick to the pan.

Step 6.

When the pan is hot, add spoonfuls of pancake mix and shape into round circles.

Step 7.

Let them cook for 2 minutes on one side and then flip and cook 2 more minutes. Add more coconut oil to the pan, as you need it.

Step 8.

Stack warm pancakes on a plate and drizzle with apple syrup, a spoonful of coconut yoghurt and slices of fruit.
LOOKING FOR MORE RECIPE IDEAS?
Sign up for delicious recipes and sustainable living ideas (don't worry, we won't spam you and we never share your data!)
Chantal Organics Products used
Coconut Oil Deodorised/Neutral
Other recipes you may like
Life Changing Loaf With Hemp Hearts
This recipe is inspired by My New Roots though we've made our own delicious changes. We've added in hemp hearts and protein powder to make this even healthier and to keep you full for longer. Once you try this dairy-free and gluten-friendly loaf toasted your life may be forever changed…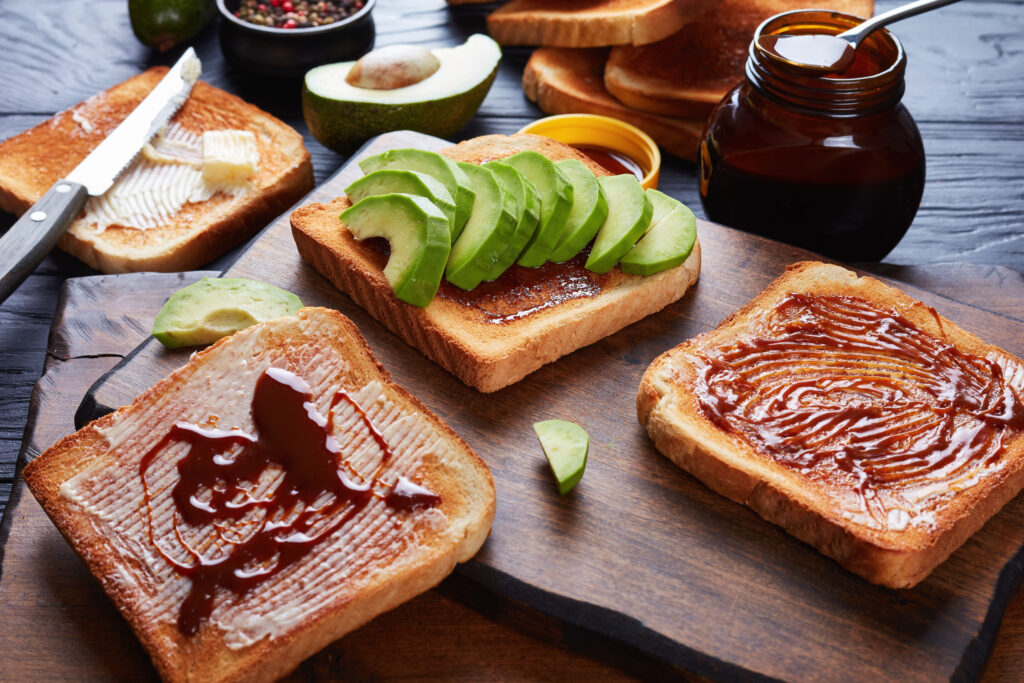 Homemade "Marmite-like" Savoury Spread
Love marmite? Try this modern, all-natural version; it's free from sugar, additives and artificial colours! Our delicious version features black tahini which is made from black sesame seeds. These dark, little seeds are loaded with anthocyanins, a flavonoid that gives the rich colour, provides powerful antioxidant activity, plus anti-inflammatory, anti-viral and anti-cancer benefits.
Chocolate Easter Waffles
This salty, sweet, honey and sesame creation is a unique show stopper, sure to inspire your dinner party guests!