40 • minutes •
12 • muffins
Gingerbread Oat Muffins with Lemon Drizzle
These spice-filled gingerbread muffins are made with the goodness of Chantal Organics Rolled Oats&nb...
20 • minutes
1 • person
Chia Oat Bircher
​A classic homemade bircher, ideal to pre-make for busy mornings on the go. We're loving this co...
25 • minutes
2 • people
Thick Banana, Honey & Ricotta Pancakes
​Try these thick banana and ricotta pancakes that are fluffy on the inside, crispy on the outside ...
60 • minutes
1 • loaf
Life Changing Loaf With Hemp Seeds
This recipe is inspired by My New Roots though we've made our own delicious changes. We've added...
45 • minutes
18 • muffins
Pumpkin & Oat Muffins
​These muffins are wheat, refined sugar and dairy free. Here you can be creative – adding ju...
20 • minutes
4 • serves
One Pot Big Breakfast
A one pot fry up filled with sage potatoes, sweet cherry tomatoes, crispy bacon & fried eggs ...
20 • minutes
12 • muffins
Quinoa Salmon Muffins with Spinach
These gluten free muffins are a nutritious and filling breakfast, or lunchbox addition and using tin...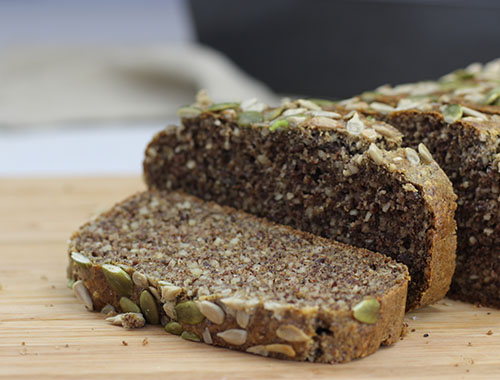 50 • minutes
1 • loaf
Paleo Grain Free Bread
​Who doesn't love a piece of warmly toasted bread smothered with nut butter or jam (or both!)? H...