15 • minutes
2 • people
Wholemeal Pancakes
A healthy take on a classic breakfast favourite. Ideal for lazy Sunday mornings, and best enjoyed in...
30 • minutes
10 • serves
Toasted Christmas-Spiced Figgy Muesli
This muesli is inspired by the flavours of Christmas. It is sweetened naturally with honey, and juic...
25 • minutes
2 • people
Thick Banana, Honey & Ricotta Pancakes
​Try these thick banana and ricotta pancakes that are fluffy on the inside, crispy on the outside ...
15 • minutes
1 • person
Spiced Apple & Feijoa Brown Rice Porridge
Done with oats but love a good porridge? Try using brown rice instead for a gluten free alternative ...
5 • minutes
2 • people
Ricotta & Banana Toast with Chocolate Almond Butter
​This ricotta and banana brekkie with chocolate almond butter may be your new favourite way to sta...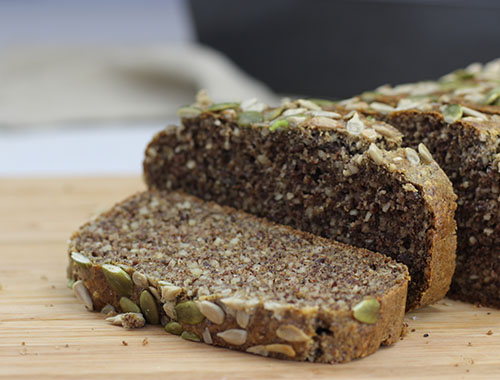 50 • minutes
1 • loaf
Paleo Grain Free Bread
​Who doesn't love a piece of warmly toasted bread smothered with nut butter or jam (or both!)? H...
10 • minutes
1 • person
Overnight Chia Oats
Looking for a quick and healthy solution to breakfast? This is it! In just 5 minutes you will have a...
20 • minutes
4 • serves
One Pot Big Breakfast
A one pot fry up filled with sage potatoes, sweet cherry tomatoes, crispy bacon & fried eggs ...