10 • minutes
12 • cookies
Easy
Whole Tahini Chocolate Chunk Cookies
These chocolate chunk tahini cookies are flourless, gluten-free, nut-free and paleo-friendly and a breeze to make. Tahini is a good source of calcium and protein, with its sweet-savoury flavour a perfect match to chocolate. This soft, chewy, fluffy and delicious tahini cookie is sure to become your favourite lunchbox or office snack.
Ingredients
1 cup Chantal Organics Whole Tahini

3/4 cup golden sugar or coconut sugar

2 large organic eggs

1/2 tbsp vanilla extract

1 tsp Chantal Organics Baking Soda

1/2 cup dark chocolate bar, broken up into small chunks (we love Loving Earth)
instructions
Step 1.

Preheat the oven to 180 C and line a baking sheet with baking paper.

Step 2.

Add all of the ingredients except the chocolate chips into a large mixing bowl. Use a hand mixer to mix everything together.

Step 3.

Fold in the chocolate pieces.

Step 4.

Scoop a tablespoon of dough onto your prepared baking sheet. Then, use your fingers to gently flatten the biscuits a bit (you may need to wet your fingers to prevent sticking). Leave some room between the cookies as they may spread while baking.

Step 5.

Bake the cookies for 12-14 minutes, or until golden along the edges.
LOOKING FOR MORE RECIPE IDEAS?
Sign up for delicious recipes and sustainable living ideas (don't worry, we won't spam you and we never share your data!)
Chantal Organics Products used
Other recipes you may like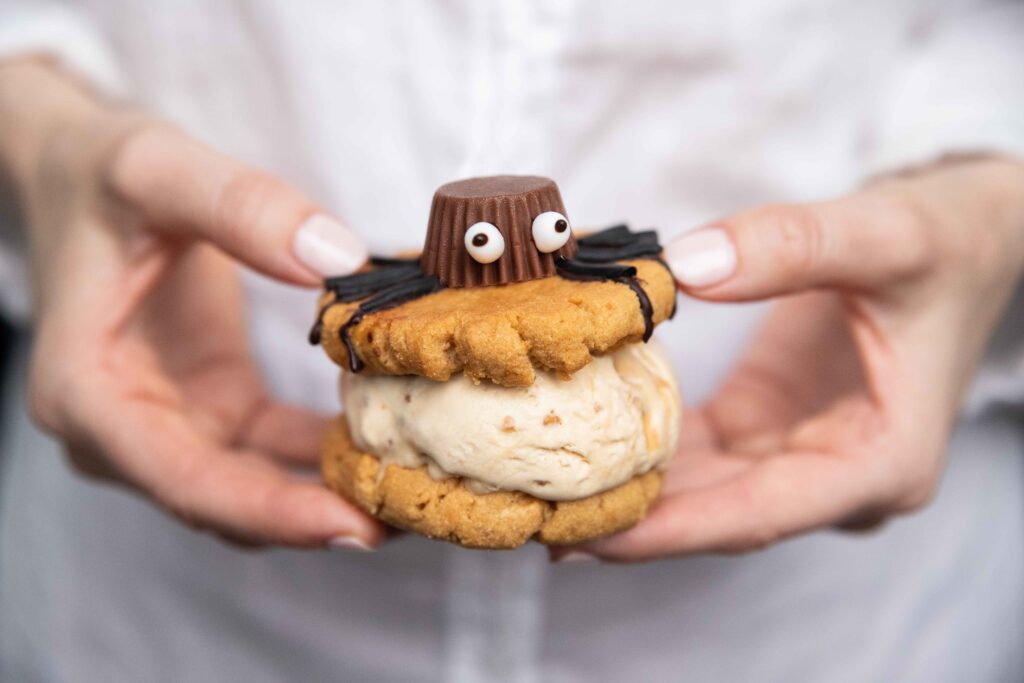 Spider Cookie Ice Cream Sandwiches
These spider cookie ice cream sandwiches are not only cute and spooky, but they're fun for kids to help make. Perfect for Halloween or a fun birthday treat. Don't worry – they're delicious for grown-ups too!
Fried Bao Bun Ice Cream Sandwich
Vanilla bean ice cream sandwiched with Peanut Butter and banana in a crispy fried hot bao bun. The salty, sweet cashew crumb adds extra crunch and balances the sweetness.
Peanut Butter Swirl Skillet Brownie
A rich, fudgy dark chocolate brownie made in a skillet with a swirl of Chantal Organics Classic Smooth Peanut Butter. Top with ice cream and you'll have a seriously decadent dessert that's perfect for sharing.