30 • minutes
10 • slices
Not too hard!
Lemon & Raspberry Loaf Cake with Raspberry Glaze
This pretty loaf cake has a beautifully light & fluffy texture, dotted with vibrant raspberries and a subtle hint of lemon. Perfect for afternoon tea or dessert.
Ingredients
Dry Ingredients

1 cup (125g) Chantal Organics White Flour

1 cup (125g) Chantal Organics White Spelt Flour

2 tsp baking powder

1⁄2 tsp sea salt

1⁄2 cup (40g) Chantal Organics Desiccated Coconut

3⁄4 cup (150g) sugar

Wet Ingredients

3⁄4 cup (180g) milk at room temperature

1⁄2 cup (120g) yoghurt

2 tbsp lemon juice (approximately 1 lemon)

1 tsp vanilla essence

1⁄3 cup (70g) Chantal Organics Coconut Oil, melted

1 cup (120g) raspberries (fresh or frozen)

Raspberry Glaze

1 tbsp raspberries (fresh or frozen)

2 tbsp lemon juice

1 1⁄3 cups (200g) icing sugar
instructions
Step 1.

Preheat the oven to 180ºC fan bake, and line a 10cm x 20cm loaf pan with baking paper.

Step 2.

Sift the flours, baking powder and salt into a large mixing bowl. Add the coconut and sugar and mix well.

Step 3.

In a smaller mixing bowl combine the wet ingredients.

Step 4.

Pour the wet mixture into the dry and stir until combined, then fold in the raspberries.

Step 5.

Pour the mixture into the loaf pan and spread evenly.

Step 6.

Bake loaf in the centre of the oven for approximately 1 hour, or until a skewer inserted into the middle comes out clean. Allow loaf to cool completely before glazing.

Step 7.

To make the glaze, combine the raspberries and lemon juice in a small pan and heat until just bubbling (alternatively microwave until raspberries are soft). Pour raspberry mixture through a sieve to remove unwanted seeds, then combine with icing sugar.

Step 8.

Glaze the loaf and decorate with crushed, freeze dried raspberries and rose petals if desired.
LOOKING FOR MORE RECIPE IDEAS?
Sign up for delicious recipes and sustainable living ideas (don't worry, we won't spam you and we never share your data!)
Chantal Organics Products used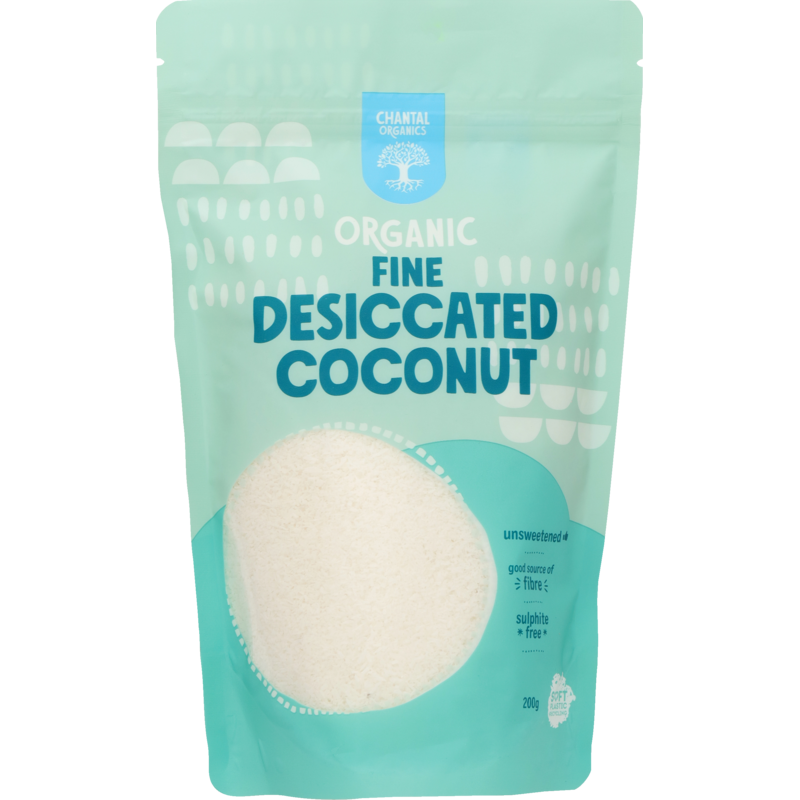 Other recipes you may like
Nut Roast Loaf
This festive nut roast is made with wholesome, nourishing ingredients and is both vegan and gluten free. It is delicious hot or cold, perfect for left overs. Plus it's simple to make and can be made ahead of time and frozen for up to 3 months or chilled for 3 days and reheated.
Chocolate Raspberry Nut Butter Cups
A guilt-free treat filled with moreish nut butter and deliciously sweet chia jam.
Chocolate PB & J Love Cups
Looking to make a treat for someone special? These little love cups are just the ticket – rich, dark, low sugar, and filled with the most delicious peanut butter and sweet raspberry jam. With only 9 ingredients, they are easy too! What's not to love!?