45 • minutes
18 • muffins
Hard
Pumpkin & Oat Muffins
​These muffins are wheat, refined sugar and dairy free. Here you can be creative – adding just about anything to this base recipe. They're delicious served warm and spread with coconut oil and a drizzle of tahini. We can't get enough of these nutritious treats for morning and afternoon tea.
Ingredients
2 cups Chantal Organics Oat Bran

2 cups Chantal Organics Jumbo Oats

½ cup ground linseed

2 tsp Chantal Naturals Baking Powder

1 Tbsp Chantal Organics Chia Seeds

1 ½ tsp cinnamon

½ tsp fresh ground nutmeg

¼ tsp cloves

¼ tsp allspice

1 tsp Chantal Organics Ginger Powder

1 tsp kelp powder (optional)

1 tsp maca powder (optional)

½ cup chopped walnuts (optional)

2 bananas, mashed

1 cup pumpkin puree (steam and mash any pumpkin)

¼ cup honey

2 free range eggs

1 ½ tsp vanilla essence

1 cup almond milk (we love Isola Bio)
instructions
Step 1.

Preheat oven to 170 C.

Step 2.

Mix all dry ingredients together in a large bowl. Set aside.

Step 3.

In a medium bowl, mash banana, add pumpkin or fruit and combine. Mix in eggs, vanilla and then milk.

Step 4.

Stir wet ingredients into dry ingredients until completely mixed.

Step 5.

Spoon into greased muffin tins.

Step 6.

Bake for 20-25 minutes.

Note

Pumpkin can be replaced with mashed carrot, grated courgette, pear or apple puree. If you do choose to use fruit, we recommend omitting the spices other than cinnamon.These muffins are rather dense (and filling) and do not rise. You'll know they're cooked when the tops turn golden brown.
LOOKING FOR MORE RECIPE IDEAS?
Sign up for delicious recipes and sustainable living ideas (don't worry, we won't spam you and we never share your data!)
Chantal Organics Products used
Other recipes you may like
Quinoa Crusted Fritto Misto
Who doesn't love a giant platter of crunchy, deep fried seafood and greens. All of the flavours are trapped inside the crisp batter. In this recipe the white wine and quinoa is added to the batter for ultimate crispiness. A side of lemony dill aioli will keep you coming back for more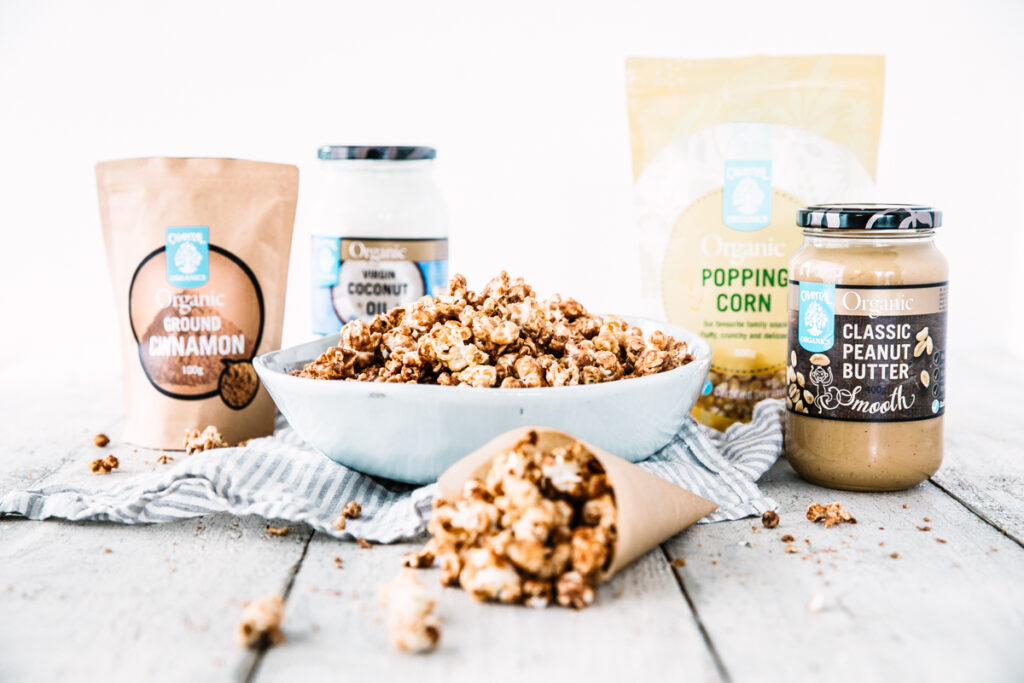 Peanut Butter & Cinnamon Caramel Popcorn
​A dairy, gluten and refined sugar free caramel popcorn recipe. The sweetener you choose will change the flavour of the caramel. Pure maple syrup creates the most indulgent caramel flavour, honey gives it a true honey flavour, and rice syrup is the least sweet creating a milder caramel flavour.
Crispy Quinoa Tofu
​Quinoa makes the crispy but delicate crumb for this epic tofu dish. Tofu is high in protein, easy to digest and very versatile. This crispy tofu is the perfect veggie alternative for starters, snacks, lunches and party nibbles.