60 • minutes
4 • people
Medium
Whole Maple Roast Squash with Turmeric Tamari Almonds & Hemp Seeds
This no waste recipe uses an entire squash – skin, seeds and all! Look for smaller squash varieties such as buttercup or butternut, as they have thinner skins that will cook faster.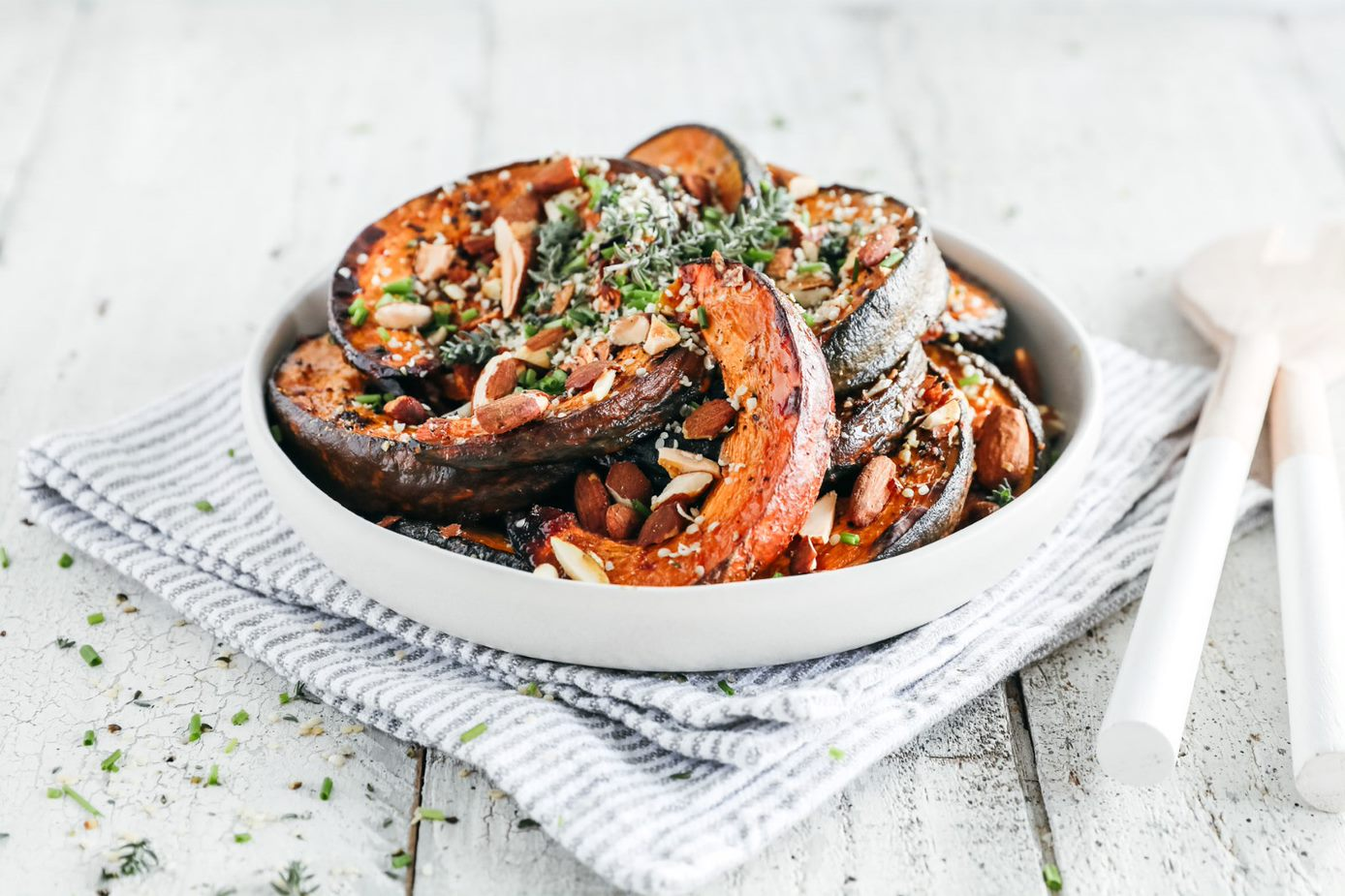 Ingredients
1 winter squash e.g kabocha, butternut or buttercup

2 tbsp Chantal Organics Coconut Oil, melted

2 tbsp pure maple syrup

Salt & pepper

1/2 cup Chantal Organics Turmeric Tamari Roasted Almonds

1/4 cup Chantal Organics Hemp Seeds

2 tbsp fresh chives
instructions
Step 1.

Preheat the oven to 180ºC fan bake, and line an oven tray with baking paper.

Step 2.

Cut the squash in half and then into 2cm slices. Place slices on baking tray along with seeds and stringy bits.

Step 3.

Combine melted coconut oil and maple syrup, drizzle over squash slices, seeds & stringy bits.

Step 4.

Place squash in centre of oven and bake for 45 minutes, or until you can easily slice through squash skin with a butter knife.

Step 5.

Meanwhile, roughly chop the almonds and chives and set aside.

Step 6.

Once squash is cooked remove from oven and place on serving plate. The seeds should be nice and crunchy and the stingy bits caramelised.

Step 7.

Sprinkle with chopped almonds, hemps seeds and chives, and serve warm.

Step 7.

Store any leftovers in a sealed container in the fridge for up to 3 days
LOOKING FOR MORE RECIPE IDEAS?
Sign up for delicious recipes and sustainable living ideas (don't worry, we won't spam you and we never share your data!)
Chantal Organics Products used
Other recipes you may like
Easy Tomato Basil Chicken Skillet Bake
This tomato basil chicken skillet bake literally takes 5 minutes to prepare. The Mediterranean flavours are deliciously tasty. 
Herby Ricotta Stuffed Chicken Breast
​Succulent stuffed chicken has never been easier. Make our simple ricotta stuffed, bacon wrapped chicken breast and satisfy everyone at the dinner table.
Lemon & Herb Chicken Breast With Sautéed Greens
This lemon and herb chicken breast with sautéed greens is a simple, light and healthy dinner. It's bursting with flavour and is a great recipe to impress dinner guests, simply double the ingredients.