15 • minutes
4
Easy
Vegetarian Kedgeree
Fragrant spices are absorbed into the rice to give you a full sensory experience. Topped with boiled eggs, greek yoghurt and fresh coriander – This is a winning savoury veggie brekkie alternative.
Ingredients
For the Kedgeree

6 eggs (we love Woodland)

1 tsp Chantal Organics Coconut Oil

1 onion, finely diced

1 tsp ginger, minced

2 cloves of garlic, minced

1 chilli - finely sliced

A handful of curry leaves

1 tsp black mustard seeds

1 tsp curry powder

1.5 cups Basmati Rice - pre-cooked (we love SunRice)
½ cup vegetable stock (we love Kallo)

1/4 cup Chantal Organics Coconut Milk

To serve

A drizzle of coconut milk

A handful coriander (we love Superb Herb)
We used a heavy based Le Creuset casserole dish.
instructions
Step 1.

Pop the eggs in a medium saucepan and cover with cold water. Bring to the boil and when the water starts bubbling, start the timer for 5 minutes then take them out and run under cold water. This will give you perfectly semi hard-boiled eggs.

Step 2.

In a heavy based casserole dish over a medium heat, fry off the onion, ginger, garlic and chilli in coconut oil until golden and translucent. Add the mustard seeds, curry leaves and curry powder and cook out for at least 2 minutes until spices become very fragrant. Add the stock, rice, coconut milk and cook until rice absorbs the liquid - around 2 minutes.

Step 3.

Once the rice has absorbed the saucy spicy goodness mix through fresh coriander and top with the eggs, a drizzle of coconut milk and some extra slices of chilli

Step 4.

Devour while hot!
LOOKING FOR MORE RECIPE IDEAS?
Sign up for delicious recipes and sustainable living ideas (don't worry, we won't spam you and we never share your data!)
Chantal Organics Products used
Other recipes you may like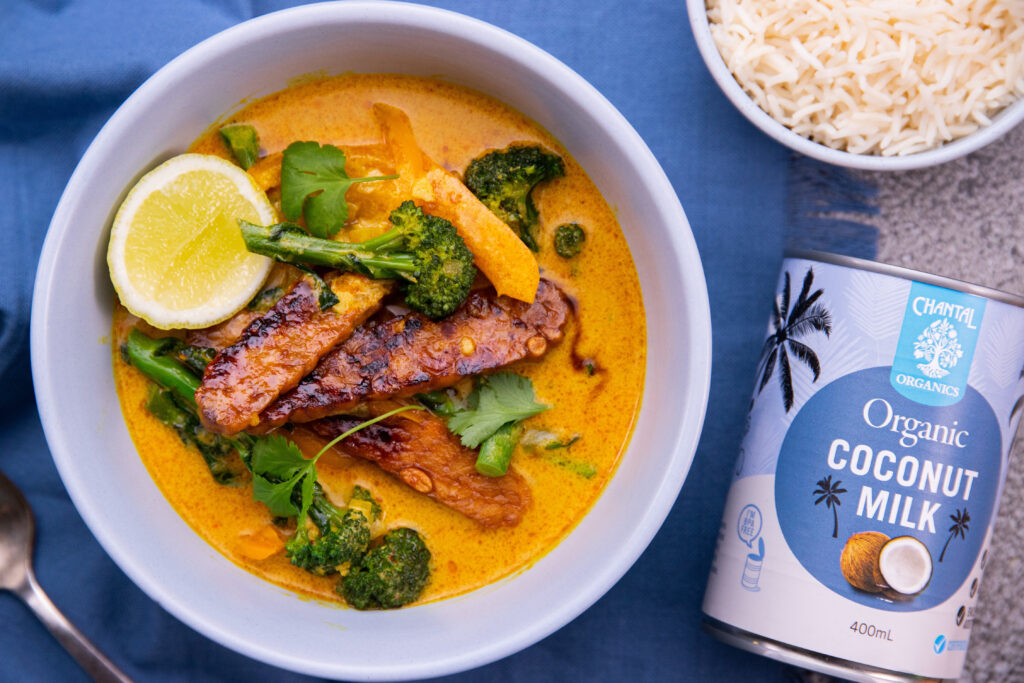 Tempeh Yellow Curry
​This tempeh coconut curry is another quick go-to if you're short on time but in need of a flavorsome and wholesome meal. The tempeh is nutty and fulling, an easy protein to keep in the fridge.
Vegan Burgers
​Who doesn't love a burger? And this vegan version from the lovely Tereza Poljanic is just as satisfying as our classic comfort favourites.
Vegetarian Stuffed Butternut Squash
This one is fast to put together. The perfect midweek healthy dinner option.