15 • minutes
4
Easy
Tofu Coconut Curry
This is the perfect dish when you're short on time but after a healthy meal. From start to finish it will be ready in twenty minutes.
Ingredients
1 pack tofu, cubed (we love Tonzu)
1 packet coconut curry sauce (we love Lee Kum Kee)

1 can Chantal Organics Coconut Milk

1 tbsp Chantal Organics Raw Virgin Coconut Oil

2 tsp ginger, minced

2 cloves garlic, minced

1 shallot, finely diced

1 red capsicum, diced

3 carrots, diced

½ bag baby white pak choy, roughly chopped (we love The Fresh Grower)
½ cup natural cashew nuts (we love Alison's Pantry)

Salt and pepper, to taste

To serve:

A handful fresh coriander (we love Superb Herb)
2 microwave pouches of brown rice (we love SunRice)
We used a heavy based Le Creuset round casserole dish.
instructions
Step 1.

Put a deep heavy based frying pan on medium heat. Add the coconut oil, ginger, garlic, shallots. Stir and fry for 2 minutes.

Step 2.

Add the coconut curry sauce, coconut milk, cubed tofu, capsicum, carrot, and cashew nuts to the pan and stir. Cover with a lid and cook for 10 minutes, stirring occasionally. Add the pak choy and, stir and cook for a further 5 minutes.

Step 3.

Heat the rice as per packet instructions.

Step 4.

Spoon into bowls and garnish with fresh coriander, extra cashews and extra steamed pak choy.
LOOKING FOR MORE RECIPE IDEAS?
Sign up for delicious recipes and sustainable living ideas (don't worry, we won't spam you and we never share your data!)
Chantal Organics Products used
Other recipes you may like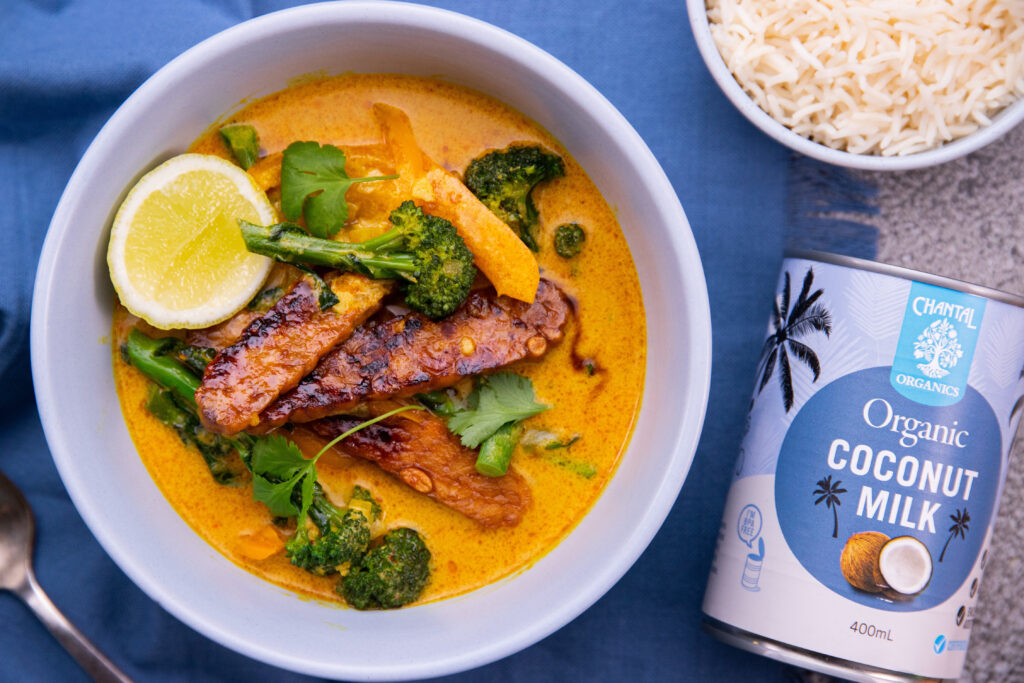 Tempeh Yellow Curry
​This tempeh coconut curry is another quick go-to if you're short on time but in need of a flavorsome and wholesome meal. The tempeh is nutty and fulling, an easy protein to keep in the fridge.
Chicken & Prawn laksa
There are many variations of laksa in Malaysia, Singapore, Indonesia and Thailand. Laksa is basically a spicy noodle soup with meat or seafood. Chicken and Prawns are the perfect combination for this spicy fragrant dish.
Thai Green Curry
​A beautiful balance of spicy, aromatic, sweet and savoury. Simple to prepare and oh so yum.