10 • minutes
4 • people
Easy
Thai Green Curry
​A beautiful balance of spicy, aromatic, sweet and savoury. Simple to prepare and oh so yum.
Ingredients
​1 tbsp Chantal Organics Sesame Oil Toasted

1 packet ready sauce for Thai green curry (we love Lee Kum Kee)
400g chicken breast, diced (we love Waitoa)

150g potato, peeled & diced

400ml Chantal Organics Coconut Milk

200g green beans, sliced lengthways

40g baby corn, sliced lengthways (we love Golden Sun)
1 tbsp fish sauce (we love Golden Sun)

1 tbsp lime juice

2 sliced green/red sliced chilli

Garnish:

Coriander, ⅓ cup, roughly chopped (we love Superb Herb)

Serve with:

2 microwave pouches of jasmine rice (we love Sun Rice)
instructions
Step 1.

​Heat oil in a pan on medium heat.

Step 2.

Stir fry chicken with Ready Sauce for 5 minutes. Add the diced potato and coconut milk.Simmer for 5 minutes.

Step 3.

Add the green beans and baby corn and cook for 5 minutes. Combine fish sauce, lime juice, and chili (optional).

Step 4.

Stir through. Serve with rice, garnish with fresh coriander leaves.
LOOKING FOR MORE RECIPE IDEAS?
Sign up for delicious recipes and sustainable living ideas (don't worry, we won't spam you and we never share your data!)
Chantal Organics Products used
Other recipes you may like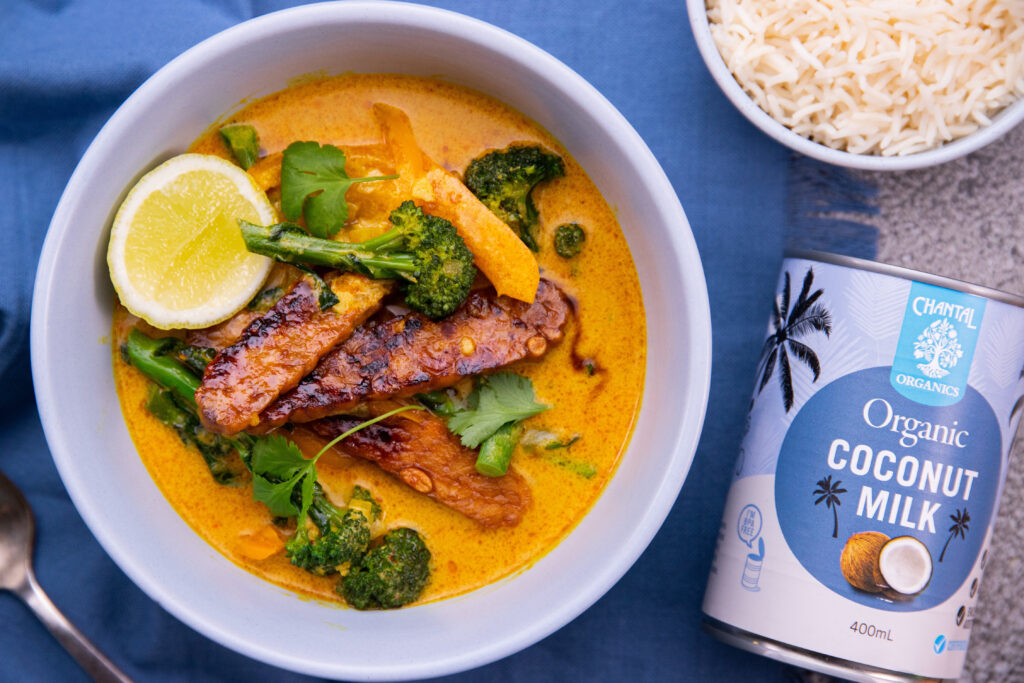 Tempeh Yellow Curry
​This tempeh coconut curry is another quick go-to if you're short on time but in need of a flavorsome and wholesome meal. The tempeh is nutty and fulling, an easy protein to keep in the fridge.
Green Chicken Curry
​A simple, warming and tasty chicken curry that's quick to put together – perfect for busy weeknights.
Chicken & Prawn laksa
There are many variations of laksa in Malaysia, Singapore, Indonesia and Thailand. Laksa is basically a spicy noodle soup with meat or seafood. Chicken and Prawns are the perfect combination for this spicy fragrant dish.