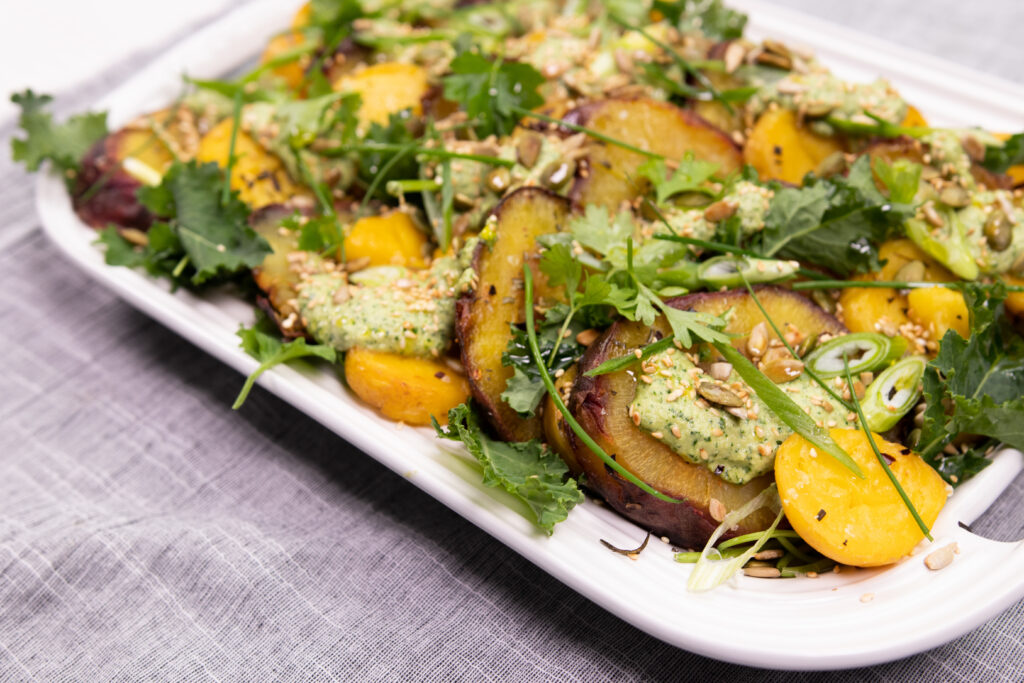 20 • minutes
2
Warm Vegan Potato Salad with Green Cashew Cream
A simple yet delicious salad, perfect as a side or for a dinner party. You will love the crispiness ...
15 • minutes
4
Vegetarian Kedgeree
Fragrant spices are absorbed into the rice to give you a full sensory experience. Topped with boiled...
15 • minutes
4
Tofu Coconut Curry
This is the perfect dish when you're short on time but after a healthy meal. From start to finish ...
15 • minutes
4
Tempeh Gado Gado
We're totally in love with this tempeh gado gado. Gado gado is an Indonesian salad of lightly cook...
15 • minutes
4
Green Chicken Curry
​A simple, warming and tasty chicken curry that's quick to put together – perfect for busy wee...
20 • minutes
4 • people
Herby Lemon Roast Chicken & Lentil Salad
Enjoy the home comforts of roast chicken with this healthy salad. Perfect for dinner, with lots of l...
20 • minutes
4 • people
Indian Spiced Cauliflower and Tahini Yoghurt Couscous Salad
​Subtly spiced cauliflower and chickpeas mixed with fresh spinach, couscous, raisins, almonds and ...
• 20 • minutes
2 • people
Prawn, Lemongrass, Coconut & Chilli Fried Rice
​Don't let the simplicity of this recipe fool you – its absolutely delicious! It's the perfe...