1 • hour
10 • serves
Not too hard!
Fruit Mince Pies
A buttery-style pastry with a sticky, sweet and Christmas spiced filling – who doesn't love a fruit mince pie!
Ingredients
Crust

1/4 cup almond milk (we love Isola Bio)

Zest of one lime

2 cups spelt flour

1/2 cup Chantal Organics Buckwheat Flour

1 tsp cinnamon

1/2 cup golden sugar

Pinch of Chantal Organics Sea Salt Fine

1/4 cup Chantal Organics Coconut Oil (melted)

Fruit mince

2 apples

1 vanilla pod

200g sultanas

100g dried figs

The juice of 2 oranges

1 tbsp Chantal Organics Coconut Oil

1 tsp cinnamon

1 tsp ginger powder
instructions
Step 1.

Start by making the mince. Chop the apples into small pieces and place them into a saucepan.

Step 2.

Slice the vanilla pod in half and scrape the seeds into the pan. Then add in all the remaining ingredients and stir it together

Step 3.

Let the mince simmer for about 30 minutes, until the apples are nice and soft.

Step 4.

TO make the crust, mix all the ingredients in one bowl. Knead the dough until it comes together and you can roll it on a floured surface with a rolling pin.

Step 5.

Grease muffin tins with coconut oil and then shape the dough into the individual tins, once you've done this cut the remaining mixture into shapes – we also made leaves - these will go on top of the pies.

Step 6.

Then place the tray of crusts in the oven for 6 minutes.

Step 7.

Once the mince has cooked start assembling the pies. Simply add two heaped teaspoons of mince into each pie before placing a leaf over the middle of the mince.

Step 8.

Bake the pies again for 8 minutes.

Serving suggestion

Once they've baked leave to cool and finish setting before enjoying!
LOOKING FOR MORE RECIPE IDEAS?
Sign up for delicious recipes and sustainable living ideas (don't worry, we won't spam you and we never share your data!)
Chantal Organics Products used
Coconut Oil Deodorised/Neutral
Other recipes you may like
Black Tahini & Honey Pie
This salty, sweet, honey and sesame creation is a unique show stopper, sure to inspire your dinner party guests!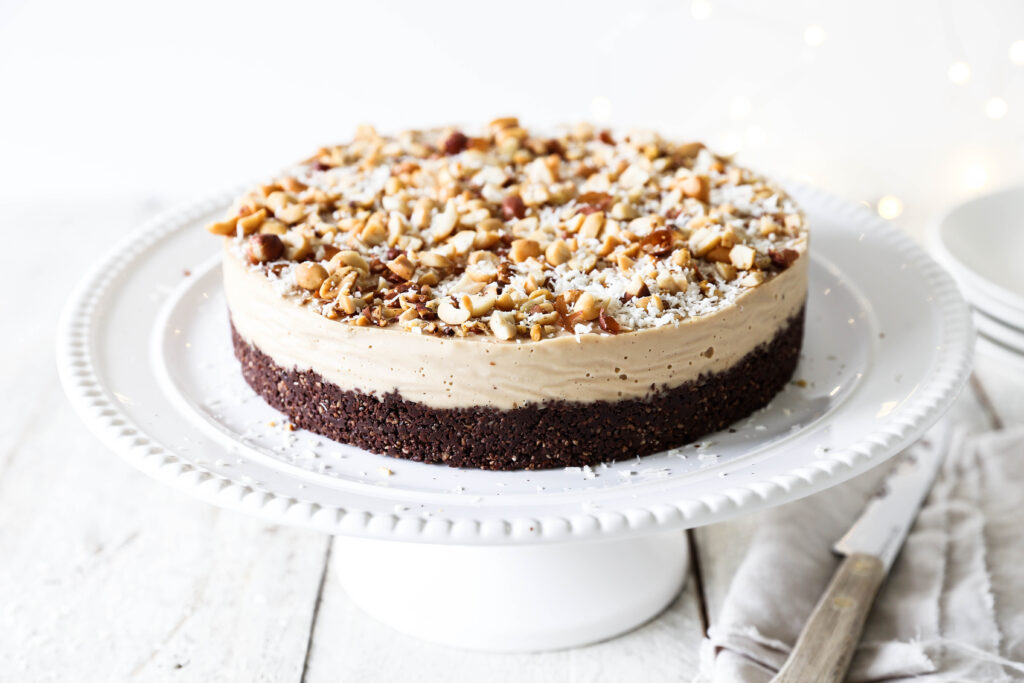 Peanut Butter Coconut Cream Pie
This impressive make-ahead dessert is both gluten and dairy free and would be a great one to serve up at a special occasion. Just remember to make it the night before you plan to eat it, to give the pie time to set.