15 • minutes
4 • serves
Easy
Fried Bao Bun Ice Cream Sandwich
Vanilla bean ice cream sandwiched with Peanut Butter and banana in a crispy fried hot bao bun. The salty, sweet cashew crumb adds extra crunch and balances the sweetness.
Ingredients
4 ready made Bao Buns, keep frozen (we love United Food Co)

1/2 liter cooking oil for deep frying

1 banana, peeled and sliced (we love Dole)
4 scoops vanilla ice cream (we love Kapiti)

4 tsp Chantal Organics Classic Smooth Peanut Butter

½ cup natural cashews - chopped (we love Alison's Pantry)

2 tsp Chantal Organics Creamed Honey

Chantal Naturals Sea Salt Fine
instructions
Step 1.

Heat cooking oil in a heavy bottomed pan or a wok to medium hot (150C).

Step 2.

Deep fry the bao buns from frozen. The buns sink to the bottom of the pan at first but slowly come up to the oil surface as they cook. Fry until outside of the bun is crisp and golden. Drain on kitchen towel.

Step 3.

Meanwhile, make the salty sweet cashew crumb. Roast the cashews slowly in a dry non stick frypan on a low heat. When the cashew are golden, drizzle honey and sprinkle salt. Mix well and keep cooking for a little longer until the moisture of the honey evabolates. Cool. Set aside.

Step 4.

Make a slit on each fried bao ban. Spread peanut butter inside of the slit, sandwich a scoop of ice cream and banana slices. Sprinkle the cashew crumb and serve immediately.
LOOKING FOR MORE RECIPE IDEAS?
Sign up for delicious recipes and sustainable living ideas (don't worry, we won't spam you and we never share your data!)
Chantal Organics Products used
Classic Smooth Peanut Butter
Other recipes you may like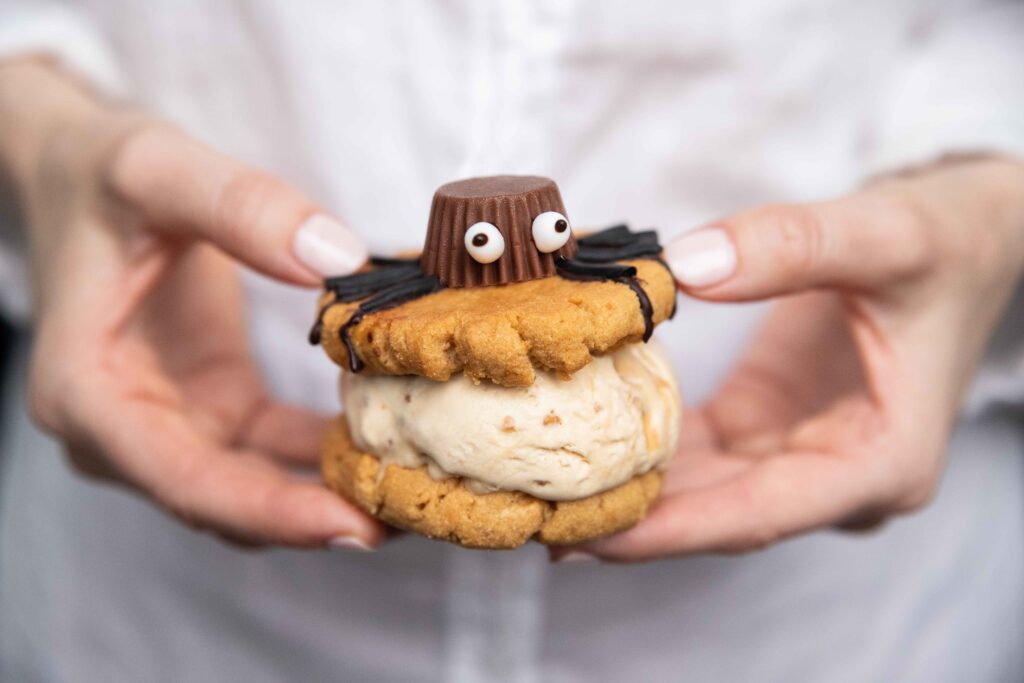 Spider Cookie Ice Cream Sandwiches
These spider cookie ice cream sandwiches are not only cute and spooky, but they're fun for kids to help make. Perfect for Halloween or a fun birthday treat. Don't worry – they're delicious for grown-ups too!
Frozen Yoghurt Grainola Cups
These frozen yoghurt grainola cups are an easy healthy treat for the whole family. Use your favourite fruits and Piako Yoghurts.
No Churn Avocado Ice Cream
This avocado ice cream is not only delicious, it is vegan and refined sugar free! A unique mix of avocados and bananas make it super creamy and healthy. It's easy to make in a blender. For a bit of texture, add chocolate chips, fresh mint or your favourite nuts after it's blended.