45 • minutes
2 • people
Not too hard!
Lentil Chilli
Lentils are a relatively low calorie, high protein and high fibre pantry staple that are super easy to prepare. Lentils readily absorb sauces, so they're great in flavoursome curries, chillis and soups. We are loving this spiced chilli recipe from nutritionist Chloe Moir
Ingredients
1 small red onion, finely chopped

1 garlic clove, crushed

1 Tbsp Chantal Organics Coconut Oil

1 Tbsp chilli powder

½ Tbsp cumin powder

½ Tbsp ground coriander

2 grated carrots

1 cup mushrooms, diced

2 heaped tbsp Chantal Organics Tomato Paste

1 can Chantal Organics Tomatoes Whole Peeled

1 can Chantal Organics Lentils, drained and rinsed

½ cup water

1/2 Tbsp Chantal Naturals Sea Salt Fine
instructions
Step 1.

Gently cook the onion and garlic in coconut oil. Add the spices and cook for another minute.

Step 2.

Add the rest of the ingredients and bring to the a boil.

Step 3.

Turn down to a gentle boil, place the lid on and cook for 20 minutes and the chili has thickened up to your desired consistency. Remove from heat and serve warm.

Serving Suggestions

Serve with your choice of sides such as fresh spinach, brown rice, quinoa or guacamole.
LOOKING FOR MORE RECIPE IDEAS?
Sign up for delicious recipes and sustainable living ideas (don't worry, we won't spam you and we never share your data!)
Chantal Organics Products used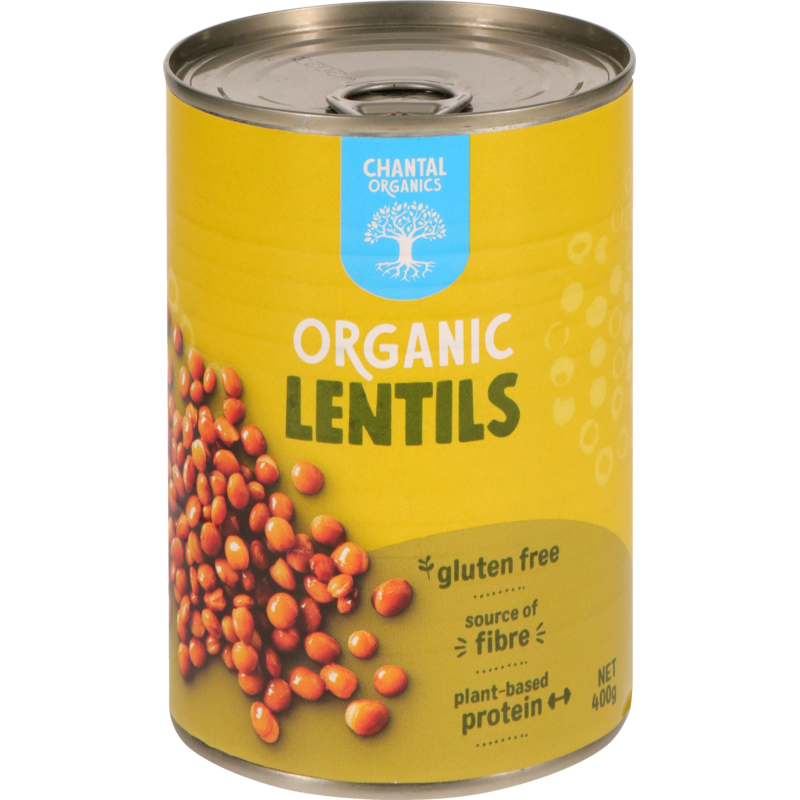 Other recipes you may like
Easy Lentil Curry
A great source of plant-based fibre and protein, lentils readily absorb sauces and seasonings, making them an ideal base for curries. Here's a flavourful recipe, that's quick and easy to put together. Feel free to use any vegetables you have on hand.
Herby Lemon Roast Chicken & Lentil Salad
Enjoy the home comforts of roast chicken with this healthy salad. Perfect for dinner, with lots of leftovers for work lunches the next day!
Moroccan Harira Lentil & Vegetable Soup
This hearty soup is packed full of seasonal vegetables that support the immune system. And the red lentils are a great plant-based source of protein and fibre. Don't be put off by the long list of spices, they give this soup a unique and warming flavour.