30 • minutes
2 • serves
Not too hard!
Lemon & Herb Chicken Breast With Sautéed Greens
This lemon and herb chicken breast with sautéed greens is a simple, light and healthy dinner. It's bursting with flavour and is a great recipe to impress dinner guests, simply double the ingredients.
Ingredients
2 chicken breasts

1/3 cup Chantal Organics Extra Virgin Olive Oil

1 lemon

Zest of ½ a lemon

1 garlic clove, peeled and finely chopped

¼ cup fresh parsley, finely chopped

250g broccolini, chop the ends off

250 g green beans, chop the rough ends off

1 tbsp Chantal Organics Coconut Oil

2 tsp Chantal Organics Sea Salt Flakes

½ tsp black pepper

Optional – an extra lemon for serving
instructions
Step 1.

Combine olive oil, lemon juice, zest, garlic, parsley and one teaspoon of salt into a large bowl.

Step 2.

Place chicken breast into the bowl and massage the marinate into them. Let this marinate for 30 minutes (or overnight).

Step 3.

After 30 minutes, heat a fry pan over medium heat and add the chicken marinade mix into the pan. Cook the chicken all the way through, roughly 7-10 minutes on each side.

Step 4.

In another large fry pan, melt coconut oil over medium heat, add broccoli and green beans, season with salt and pepper, cook for 5-7 minutes until vegetables are tender, but not soft.

Step 5.

Serve one chicken breast on a plate with half the green vegetables and a wedge of lemon. Enjoy immediately!
LOOKING FOR MORE RECIPE IDEAS?
Sign up for delicious recipes and sustainable living ideas (don't worry, we won't spam you and we never share your data!)
Chantal Organics Products used
Coconut Oil Deodorised/Neutral
Other recipes you may like
Coconut Lemongrass Roast Chicken
How about this fragrant Thai inspired roast chicken for your family dinner this Sunday? The sweet and nutty coconut milk infused with fragrant lemongrass, kaffir lime leaf, ginger and garlic makes this chicken an absolute winner!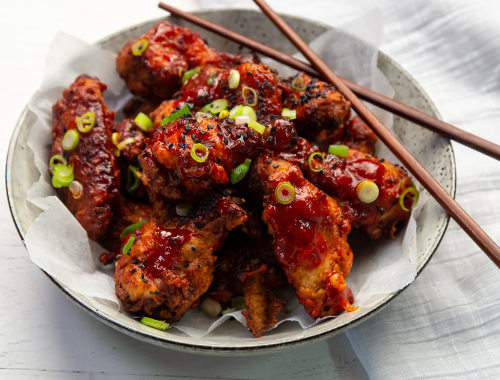 Korean Fried Chicken
This sticky, yet crispy Korean fried chicken is the ultimate comfort food. It is super simple to make. Marinade the chicken in seasoned buttermilk overnight to get it super tender and delicious. Chicken so good we fried it TWICE!
Christmas Roast Chicken
Make Christmas easy and healthy with this super simple roast chicken with quinoa, cranberry and almond salad. It's full of wholesome, nutritious and delicious ingredients to leave you feeling satisfied. It's completely gluten free, dairy free and refined sugar free.