30 • minutes
4
Not too hard!
Indian Spinach Curry
This vegetarian curry is both tasty and loaded with nutritious greens. You can add frozen greens (spinach and peas) or whatever greens you have in your garden. Paneer is an Indian cottage cheese that can be found in most supermarkets.
Ingredients
1 block paneer cheese, cubed

1 bag spinach leaves (we love The Fresh Grower)
½ bag green kale salad (we love The Fresh Grower)

½ can Chantal Organics Coconut Milk

3 tbsp avocado oil & chilli (we love Olivado)
½ cup roast unsalted cashews, roughly chopped (we love Alison's Pantry)

1 onion, diced

2 tsp garlic, diced

2 tsp ginger, grated

1 tsp minced ginger

1 green chilli, diced

1tbsp garam masala

Sea salt, to taste

To serve:

2 basmati fragrant white rice microwave pouches (we love SunRice)
1 pack Naan bread, heated (we love Giannis)

To serve

Emerson's Hazed and Confused beer

We used a Le Creuset casserole dish
instructions
Step 1.

Heat 2 tablespoons of avocado oil in a deep set frying pan. Add the diced onion and fry for 5 minutes, stirring frequently.

Step 2.

Add the garlic, ginger and chilli and fry for a further 2 minutes.

Step 3.

Add the garam masala and coconut milk and fry for 1 minute. Add the spinach and kale in batches (it will wilt down immensely).

Step 4.

Once the greens have wilted down use a blending stick and blend until smooth. Alternatively let it cool then blitz in a blender.

Step 5.

Heat the other tablespoon of avocado oil in a nonstick pan. Add the cubed paneer and fry until golden, about five minutes. Sprinkle with salt.

Step 6.

Pour the blended curry sauce over the paneer and add the cashew nuts.

Step 7.

Heat the basmati microwave pouches and naan breads as per instructions.

Step 8.

Serve the spinach curry over rice with naan breads.
LOOKING FOR MORE RECIPE IDEAS?
Sign up for delicious recipes and sustainable living ideas (don't worry, we won't spam you and we never share your data!)
Chantal Organics Products used
Other recipes you may like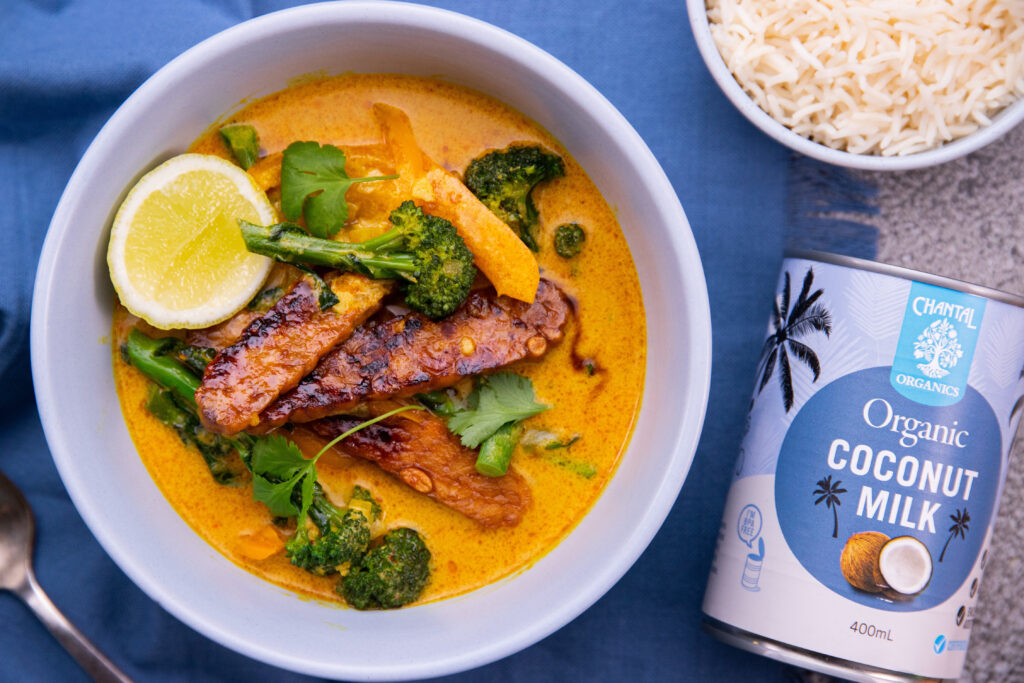 Tempeh Yellow Curry
​This tempeh coconut curry is another quick go-to if you're short on time but in need of a flavorsome and wholesome meal. The tempeh is nutty and fulling, an easy protein to keep in the fridge.
Thai Green Curry
​A beautiful balance of spicy, aromatic, sweet and savoury. Simple to prepare and oh so yum.
Tofu Katsu Curry
This is a vegetarian version of a popular Japanese one bowl meal. Bread crumbed and fried Tofu is served on a bed of rice with tasty Japanese style curry sauce.