15 • minutes
4 • serves
Easy
Easter Pita French Toast
A lovely twist on the classic French toast! Perfect for Easter made with pita breads filled with mixed berries and paired with the tasty & salty bacon. Serve with some good quality vanilla ice cream to complete the ultimate Easter breakfast treat with family. Happy Easter!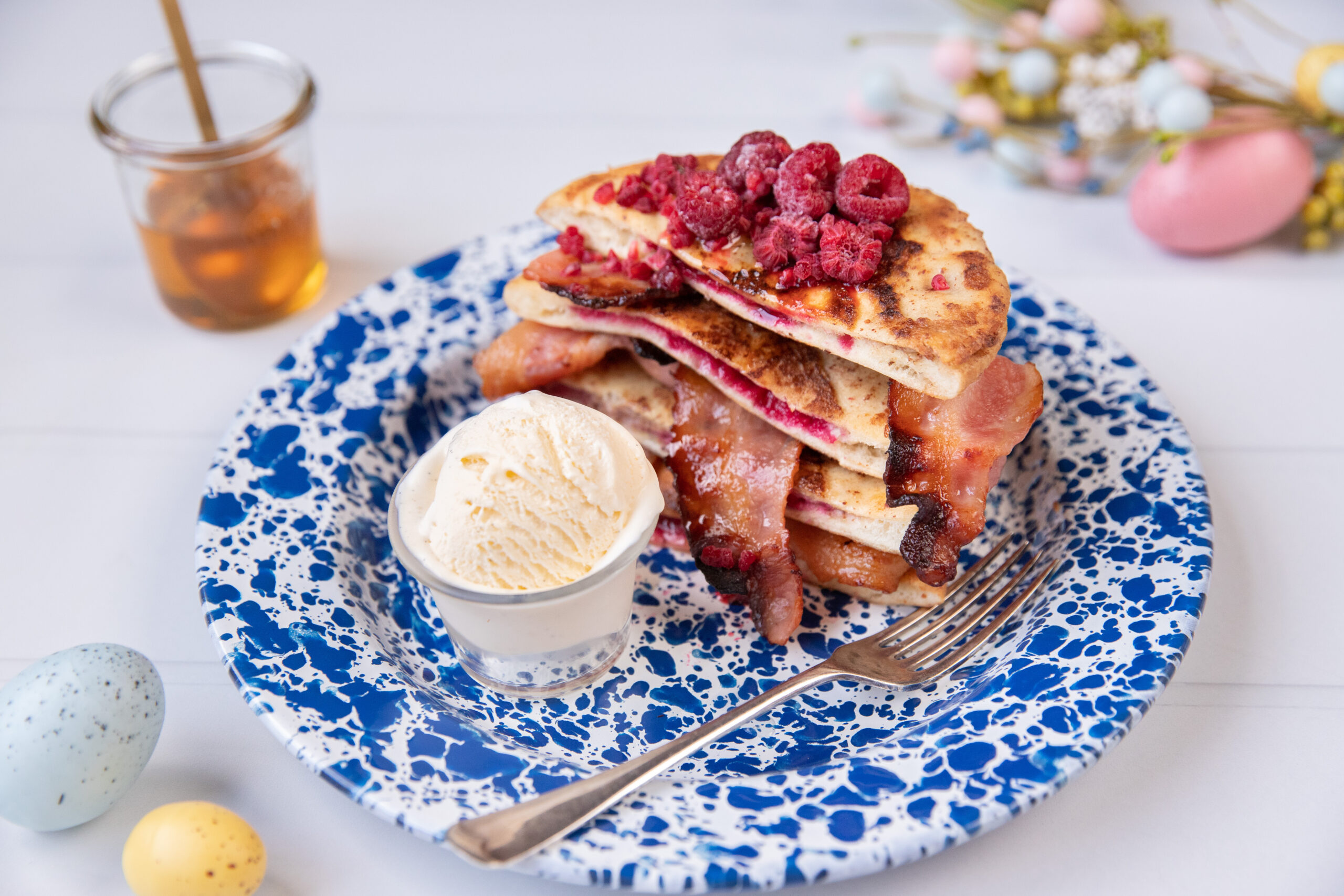 Ingredients
3 fresh eggs (we love Woodland)

½ can (200g) Chantal Organics Coconut Cream

1 tsp raw sugar

1 tsp ground cinnamon (we love Mrs Rogers)

A pinch salt

4 big pita breads (we love Giannis)

2 cups frozen raspberries

Chantal Organics Coconut Oil, for cooking

8 rasher manuka smoked streaky bacon (we love Hellers)

To Serve

A dizzle of Chantal Organics Creamed Honey

Vanilla bean ice cream

Extra frozen raspberries
instructions
Step 1.

Preheat oven to 220C.

Step 2.

In a bowl, whisk together the eggs, raw sugar, coconut cream, cinnamon and salt.

Step 3.

Heat pitas in the microwave for 1 minute (to soften). Make a small incision in the pita breads and fill the centre with 3-4 tbsp frozen berries

Step 4.

Dip the stuffed pita bread into the egg mixture and let soak for 5 minutes

Step 5.

In a fry pan over medium heat, fry the french toast for at least 4-5 minutes on each side in a little coconut oil – until completely golden and cooked through and berries have softened inside

Step 6.

Finish off in a 220C oven for 10 minutes.

Step 7.

Leave in the oven to keep hot and continue cooking through until ready to serve.

Step 8.

Fry or grill the bacon over a high heat until golden and crispy.

Step 9.

Serve the french toast and bacon hot with a scoop of vanilla ice cream, some extra berries and a drizzle of honey.

Step 10.

Devour!
LOOKING FOR MORE RECIPE IDEAS?
Sign up for delicious recipes and sustainable living ideas (don't worry, we won't spam you and we never share your data!)
Chantal Organics Products used
Other recipes you may like
Chocolate Easter Waffles
This salty, sweet, honey and sesame creation is a unique show stopper, sure to inspire your dinner party guests!
Toasted Christmas-Spiced Figgy Muesli
This muesli is inspired by the flavours of Christmas. It is sweetened naturally with honey, and juicy dried figs and cranberries, and packs a delicious spice punch thanks to the cinnamon and ginger toasted rolled oats. A yummy breakfast to enjoy with fresh seasonal berries and creamy yoghurt in the lead-up to Christmas!
Ricotta & Banana Toast with Chocolate Almond Butter
​This ricotta and banana brekkie with chocolate almond butter may be your new favourite way to start the day. Best of all… you can whip this up in under ten minutes.