5 • minutes
12 • serves
Easy
Frozen Yoghurt Grainola Cups
These frozen yoghurt grainola cups are an easy healthy treat for the whole family. Use your favourite fruits and Piako Yoghurts.
Ingredients
1 ½ cup Chantal Organics Apple Crumble Grainola

1 ½ tsp butter, melted (we love Anchor)
1 ½ tsp honey for kids (we love Airborne)
½ pot vanilla bean yoghurt (we love Piako)
½ pot creamy mango yoghurt (we love Piako)
½ pot creamy mixed berry yoghurt (we love Piako)

½ cup fresh raspberries

½ fresh mango, sliced

¼ cup Chantal Organics Desiccated Coconut, lightly toasted

Equipment

12 Mrs Rogers Party Bake Cups
Muffin tin (we used a 12 cup Le Creuset Muffin Tray)
instructions
Step 1.

To make the brownie base, add all dry ingredients elements to a food processor and blitz until they resemble coarse bread crumbs. Add the coconut oil and water and pulse until the mixture starts to come together. Line a slice tray with baking paper and press the brownie mixture in the tin evenly. Set aside.

Step 2.

In a food processor or blender, add all the caramel ingredients and blend until silky. If the mixture starts to split because of the oil, add more coconut cream, a tablespoon at a time and scrape down the sides of the food processor before mixing. Repeat until you obtain a smooth consistency.

Step 3.

Pour the caramel mixture over the brownie base and even out using a spatula. Finish with a sprinkle of raspberries and pop in the freezer to set for at least 45 minutes.

Step 4.

When ready to serve, remove from the freezer and allow the slice to thaw for a few minutes before slicing. Enjoy!
LOOKING FOR MORE RECIPE IDEAS?
Sign up for delicious recipes and sustainable living ideas (don't worry, we won't spam you and we never share your data!)
Chantal Organics Products used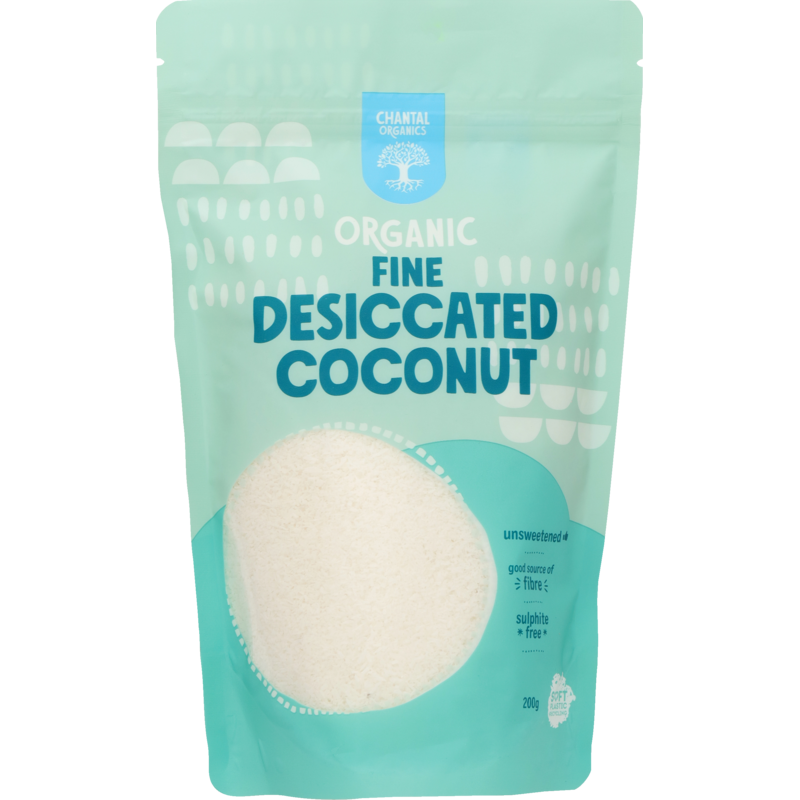 Other recipes you may like
Cheats Salty Sweet Peanut Butter Frozen Yoghurt
Making ice cream has never been easier. Our cheats salty sweet peanut butter frozen yoghurt takes only 5 minutes to prepare and is ready to eat after 2 hours in the freezer. It's sure to be a new summer favourite!
No Churn Avocado Ice Cream
This avocado ice cream is not only delicious, it is vegan and refined sugar free! A unique mix of avocados and bananas make it super creamy and healthy. It's easy to make in a blender. For a bit of texture, add chocolate chips, fresh mint or your favourite nuts after it's blended.