20 • minutes
8 • serves
Easy
Caramelised Upside Down Plum & Orange Cake
This gluten free, upside down, caramelised, orange and plum cake is not only a sight for sore eyes – but a moist, delicious extravaganza, sure to please your afternoon tea guests.
Ingredients
For the batter

300g butter - melted (we love Anchor)

1 ½ cups sugar

4 eggs (we love Woodland)

Zest of one orange

¼ cup orange juice

1 tsp vanilla essence

3 ½ cups Chantal Organics Roasted Almonds

1 cup buckwheat flour

1 tsp Chantal Organics Baking Powder

For the Plums

8 plums - halved, pip removed

½ cup sugar

Extra

Baking parchment

Chantal Organics Coconut Oil for greasing

Ice cream - optional (we love Kapiti)
instructions
Step 1.

Heat the oven to 180C and line a 20cm cake tin with parchment and grease with a little coconut oil.

Step 2.

In a bowl - whisk together the butter, sugar, eggs, vanilla, orange juice and zest.

Step 3.

Sift and fold through the buckwheat flour and baking powder and finally fold through the ground almonds.

Step 4.

In a large non stick fry pan over a medium/high heat melt the sugar and cook until it reached a golden colour

Step 5.

Drizzle the caramel on the bottom of the lined cake tin. Top with the plum halves to cover the base of the tin and then pour the cake batter over to cover.

Step 6.

Bake for 35-40 minutes until a skewer comes out clean.

Step 7.

Serve warm with some good quality ice cream.
LOOKING FOR MORE RECIPE IDEAS?
Sign up for delicious recipes and sustainable living ideas (don't worry, we won't spam you and we never share your data!)
Chantal Organics Products used
Other recipes you may like
Chocolate & Beetroot Mini Cakes
Beetroot and chocolate is a killer combo! The beets not only add a moist, dense texture to the cakes, they also give the cakes a nutritious earthy flavour and feel. Dress with cute pink cream cheese icing for your next tea party!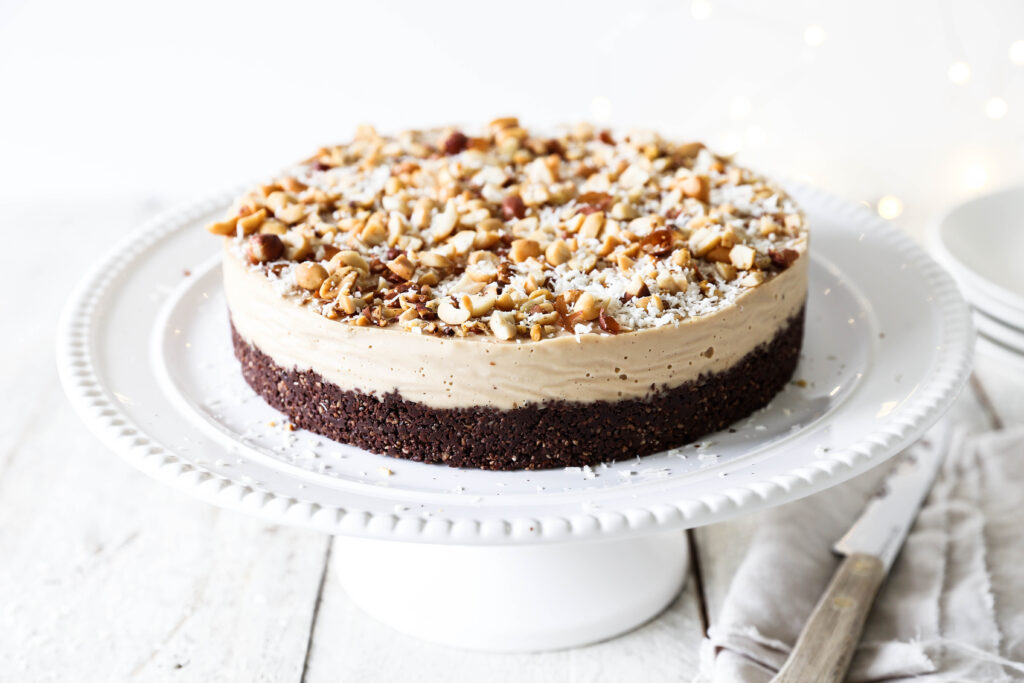 Peanut Butter Coconut Cream Pie
This impressive make-ahead dessert is both gluten and dairy free and would be a great one to serve up at a special occasion. Just remember to make it the night before you plan to eat it, to give the pie time to set.
Honey & Cinnamon Spiced Almond Butter Cake
A lightly spiced honey cake with a beautiful soft texture, boosted with the goodness of Chantal Organics Cinnamon Spiced Almond Butter with Chia and Hemp seeds. Serve topped with a thick creamy coconut yoghurt, fresh fruit and a drizzle of honey.