October 29, 2020
Why We Chose Soft Plastics Recyclable Packaging
Our commitment to sustainability is in everything we do.
Chantal Organics is committed to sustainability and this includes taking a closer look at how we package our products. Protecting the quality of our organic ingredients is our priority, to ensure they maintain their freshness and to mitigate food waste from spoilage, which is a significant contributor to greenhouse gas emissions
Along with many New Zealanders, we are concerned about plastic waste, so it's important to us that our packaging is part of a full circle of sustainability. This means the packaging completes the cycle of its life, preferably in NZ, with as little impact on the environment as possible.
With this in mind, we reached the decision to use resealable, soft plastic recyclable bags, that are made with 25% recycled plastic content. We therefore use less virgin plastic in our packaging which helps to conserve natural resources. Recyclable plastic can be reused time and time again, diverting it from landfill. At the end of their use, our bags can be recycled here in New Zealand into new products such as fence posts by Future Post or buckets, cable covers, waterslides and more by 2nd Life Plastics.
Why we chose not to use compostable packaging
After considerable research, we believe being part of a circular economy is more future-proof than compostable packaging. Most compostable packaging is made from 100% virgin materials, and current compostable products are essentially single use. When composted, the material does not add nutritional, fibre or economic value to the soil. In reality they are downcycled, rather than recycled. So they effectively end up as waste, instead of useful feedstock to more production.
In addition research has shown there are numerous issues for commercial composters in NZ, which include:
A lack of composability standards for food packaging
Different lengths of processing depending on packaging composition
Contamination of the waste stream, both with recycling streams and composting facilities
Lack of education across compostable waste producers of what can be composted
A number of items in the marketplace which are mislabelled as compostable or biodegradable, which are not
In July 2018, the Parliamentary Commissioner for the Environment released an online resource to help people understand the issues relating to biodegradable and compostable plastics and how to dispose of them.
The report says that people cannot put most products into their home compost heaps or into their recycling bins. New Zealand does not yet have a standard for compostable packaging nor does the current infrastructure take most of these products in the volumes presented, which means they will mostly end up in a landfill.
"In summary, New Zealand does not currently have capable composting infrastructure for packaging. "
The Soft Plastics Recycling Scheme
Chantal Organics are playing a part in closing the loop on plastic packaging, by helping to fund the Soft Plastics recycling scheme.  All of our recyclable plastic pouches can be dropped into the Love NZ Soft Plastic Recycling bins at supermarkets and other participating stores in NZ. The collection service is available in the Auckland area, Bay of Plenty, Christchurch, Northland, Waikato, Taranaki and Wellington regions. Find out if there is a drop off near you here.
The Packaging Forum are taking a phased approach to expansion, as they continually monitor the volumes they collect. They are looking at the potential for new collections points around the country, as they manage the amount of soft plastics collected in relation to the available processing capacity. At present there are no processors in South Island.
At this point, soft plastic recycling is not accepted in kerbside recycling due to a lack of systems and infrastructure in NZ, however the government has plans to invest in this.
As part of our sustainable journey, we will continue to transition our full range of dry goods into soft plastic recyclable bags. While we realise that current technology is not a perfect solution to zero waste, we are helping to play our part while protecting the integrity of our products to minimize food waste. As innovative packaging technology continues to improve, we will always strive to offer the most up-to-date packaging solutions.
PRODUCTS MENTIONED
Paleo Caramel Apple Pie Supergranola
Cashew & Cranberry Crumble Trail Mix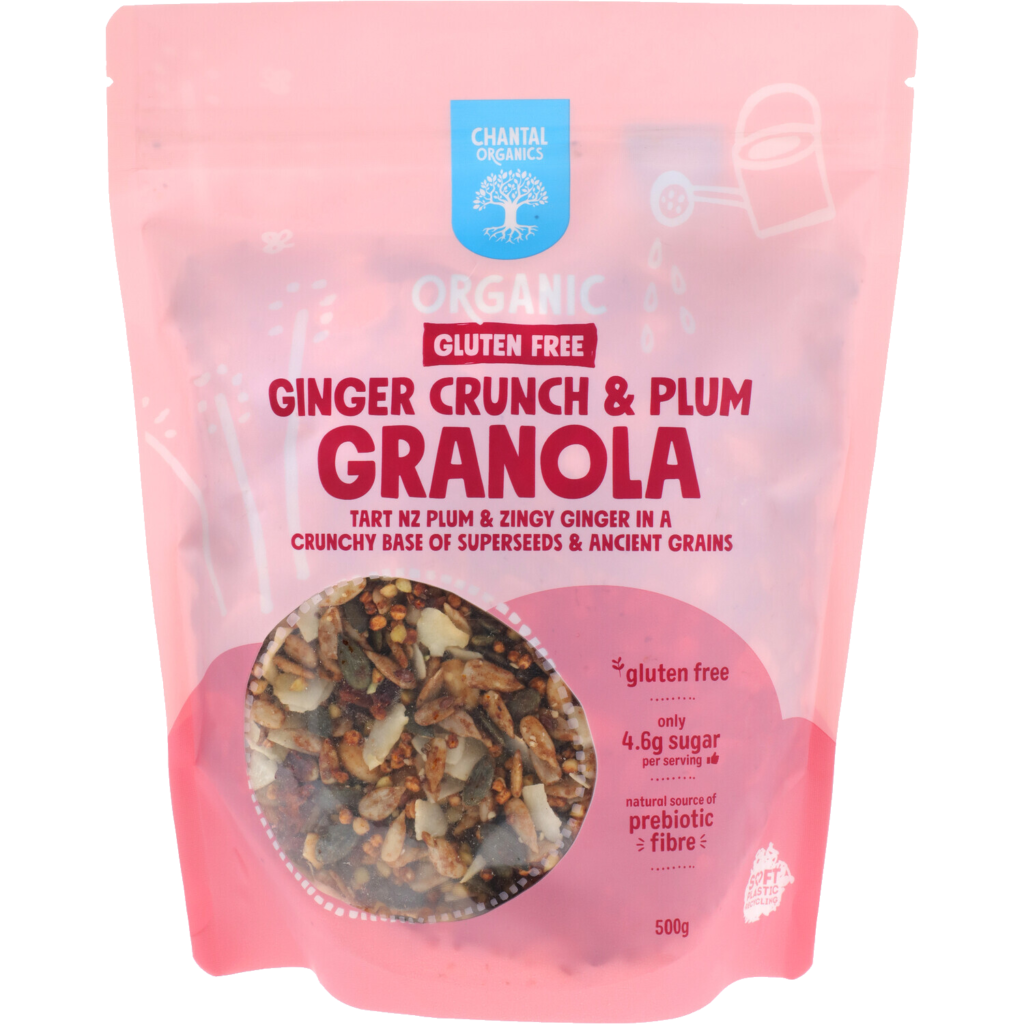 Gluten Free Ginger Crunch & Plum Granola