45 • minutes
4 • serves
Not too hard!
Pumpkin & Lentil Savoury Crumble
A savoury bake with a lentil, pumpkin & kumara filling, topped with a crunchy savoury crumble using Chantal Organics Swiss Bircher Muesli. Perfect as a vegetarian main, or as a side dish at pot luck dinners or BBQs.
Ingredients
Lentil Filling

1 Tbsp Chantal Organics Extra Virgin Olive Oil

2 cloves garlic

1/2 medium pumpkin/squash (approximately 500g)

1 large orange kumara (approximately 500g)

1 1/2 cups vegetable stock

1 can Chantal Organics Chopped Tomatoes

1 can Chantal Organics Lentils

1 tsp ground turmeric

1/4 tsp cayenne pepper (optional)

salt + pepper to season

Savoury Crumble Topping

2 cups Chantal Organics Swiss Bircher Muesli

1/2 cup Chantal Organics Pumpkin Seeds

1/2 cup Chantal Organics Hemp Seeds

1/2 cup ground almonds

1 handful fresh thyme leaves, roughly chopped

1/4 cup Chantal Organics Extra Virgin Olive Oil

salt + pepper to season
instructions
Step 1.

Preheat the oven to 180ºC fan bake and set aside a large casserole dish.

Step 2.

Prep the ingredients for the filling: peel and chop the onion into small pieces; peel and crush the garlic; cut the skin off the pumpkin, remove the seeds and chop into bite size pieces; peel and chop the kumara into bit size pieces.

Step 3.

Heat the oil in a large pan. Add the onion and cook until it begins to soften and caramelise.

Step 4.

Add the crushed garlic, pumpkin, kumara and 1/2 cup of stock. Bring to a simmer and continue to cook until the pumpkin and kumara begin to soften. Add more stock as needed.

Step 5.

While the kumara and pumpkin are cooking, prepare the crumble by combining all the ingredients in a large mixing bowl and stirring well.

Step 6.

Drain the lentils and add to the pan along with the chopped tomatoes, spices, salt and pepper. Allow to come to a simmer then remove from the heat.

Step 7.

Pour the filling into the casserole dish and top with the crumble. Place in the centre of the oven to bake for about 30 minutes, or until the crumble turns a light golden colour.

Step 8.

Serve warm with a large green side salad. Any leftovers will keep in the fridge for up to 5 days
LOOKING FOR MORE RECIPE IDEAS?
Sign up for delicious recipes and sustainable living ideas (don't worry, we won't spam you and we never share your data!)
Chantal Organics Products used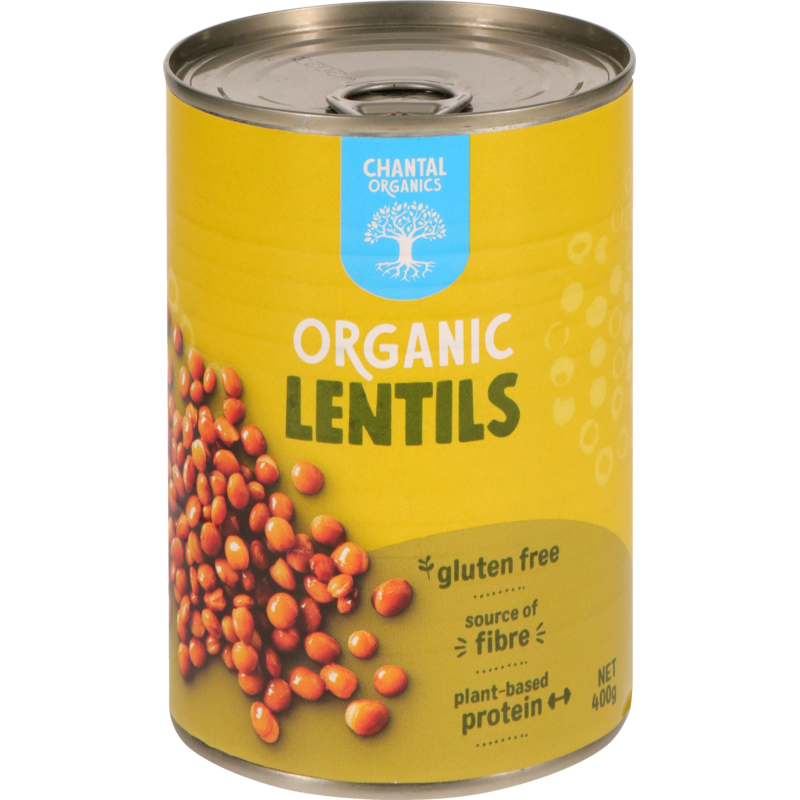 Other recipes you may like
Nut Roast Loaf
This festive nut roast is made with wholesome, nourishing ingredients and is both vegan and gluten free. It is delicious hot or cold, perfect for left overs. Plus it's simple to make and can be made ahead of time and frozen for up to 3 months or chilled for 3 days and reheated.
Sweet Potato Beef Lasagne with Spinach
Our gluten free twist on a family classic uses sweet potatoes instead of lasagne sheets. With a healthy proportion of vegetables, this is sure to become a regular addition to your weekly dinner menu. Dinner with leftovers for lunch!
Vegetarian Stuffed Butternut Squash
This one is fast to put together. The perfect midweek healthy dinner option.