10 • minutes
24 • bars
Easy
Milk Chocolate Granola Bars
These no bake milk chocolate granola bars are super speedy to make with just 5 ingredients. Awesome for lunchbox treats, mid afternoon pick-me-ups, or delicious hiking snacks.
Ingredients
1 packet (700g) Chantal Organics Apricot and Almond Grainola

1 cup Chantal Organics Tahini

½ cup creamed clover honey (we love Airborne Honey)

1/2 cup Chantal Organics Virgin Coconut Oil

2 bags milk chocolate drops (approx. 400g), melted

We used a Le Creuset rectangular oven tray
instructions
Step 1.

In a saucepan melt the coconut oil over medium heat. Add the tahini and honey and stir until combined.

Step 2.

Mix in the grainola, stirring to make sure it is well coated. Take off the heat.

Step 3.

Line a baking tin with baking paper. Pour the mixture in and smooth over with a spatula. Press down to compact. Place in the fridge or to set, for about 1 hour.

Step 4.

Drizzle with melted chocolate and refrigerate for a further 15 minutes. Cut into 8 large bars, or the shape and size that you prefer.
LOOKING FOR MORE RECIPE IDEAS?
Sign up for delicious recipes and sustainable living ideas (don't worry, we won't spam you and we never share your data!)
Chantal Organics Products used
Other recipes you may like
Apple & Rhubarb Grainola Slice
​This apple and rhubarb grainola slice is a delicious make-ahead breakfast alternative, especially for when you're on the go!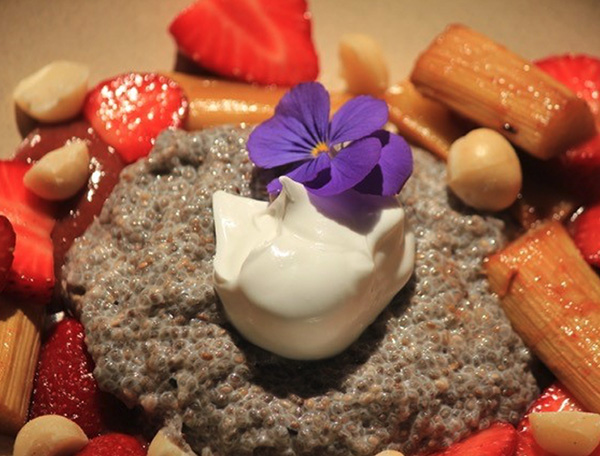 Chia Breakfast Pudding with Strawberry & Rhubarb
We love this combination of rhubarb, strawberry and vanilla. One of our all-time favourites from Chef Earl Zapf.
Vegan Seeded Superfood Protein Bars
These no-bake bars are packed with plant-based protein and omegas found in the superseed – hemp. Fresh dates give them a subtle and nourishing sweetness that is scrumptious and so satisfying. They are perfect for after a workout, for a mid-afternoon pick me up or even as breakfast on-the-go.