30 • minutes
2
Wholegrain Pasta With Kale Pesto
Pesto can actually be made with any leafy greens. This recipe uses kale and pumpkin seeds for a uniq...
45 • minutes
6 • people
Whole Roast Cauliflower & Black Bean Traybake
This no waste recipe uses all parts of a cauliflower – florets, stems and leaves! Feel free to...
60 • minutes
4 • people
Whole Maple Roast Squash with Turmeric Tamari Almonds & Hemp Seeds
This no waste recipe uses an entire squash – skin, seeds and all! Look for smaller squash vari...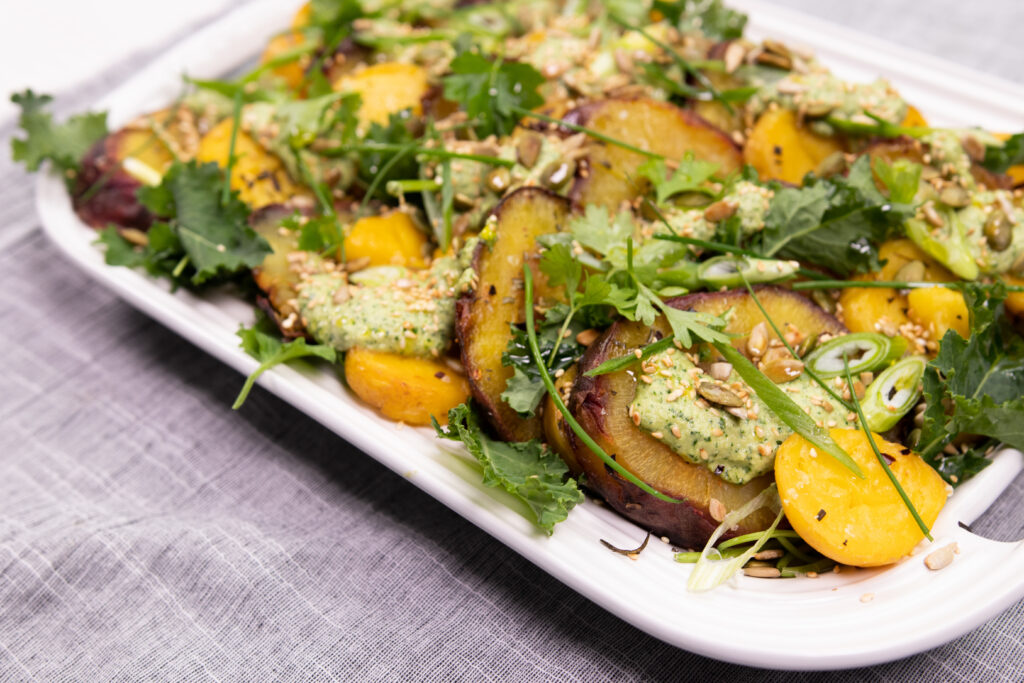 20 • minutes
2
Warm Vegan Potato Salad with Green Cashew Cream
A simple yet delicious salad, perfect as a side or for a dinner party. You will love the crispiness ...
15 • minutes
4 • serves
Vietnamese Tofu Turmeric Pancakes
Fans of healthy Asian Cuisine will love these colourful Vietnamese pancakes stuffed with tofu, veget...
15min • prep • 15min • cook •
4 • serves
Venison Tacos with Quick Pickled Red Onion
...
20 • mins •
Serves • 4
Venison Nachos
Nachos are an easy meal that the whole family will love. Venison mince is high in iron whilst low in...
10 • minutes
4 • people
Vegetarian Stuffed Butternut Squash
This one is fast to put together. The perfect midweek healthy dinner option....