September 29, 2020
A Helpful Guide to Recycling our Packaging
Supporting our customers to be a part of our sustainable movement.
When it comes to recycling, teamwork is key to support a full circle of sustainability. To become an effective and sustainable solution, producers, consumers and recyclers all need to play their part to complete the recycling loop.
When this circle comes together, recycling offers people and planet many benefits such as: reducing the amount of waste that goes to landfill, conserving natural resources, saving energy, reducing pollution and keeping waste out of the ecosystem.
Chantal Organics is committed to sustainability throughout our business, from our supply chain through to producing and packaging our product. In 2020 we moved almost our entire range into recyclable packaging. We have put together this simple guide, to help our customers make the best choices when it comes to recycling our packaging.
How to Recycle Glass
Glass is uniquely sustainable as it can be recycled in a closed loop again and again without losing any of its quality, purity or clarity. Glass that is collected in NZ is sent to O-I NZ in Auckland and is reprocessed back into new glass containers. The statistics show that recycling glass supports sustainability.
For every 10% increase in recycled glass used in production, we achieve a 3% reduction in energy consumption and 5% reduction in carbon emissions."
Chantal Organics uses glass jars for nut and seed spreads, coconut oil, sweeteners, tomato-based sauces and glass bottles for oils and vinegars.
Simply rinse out the glass jar or bottle to remove any leftover food, in particular oily residues, as this can cause problems in the recycling process. Place in your kerbside recycling bin.
Labels can be left on the jars, including our new sustainable Rockstock labels.
The metal lids on the jars can be recycled. Click here for a link to your regional council to get information on how to recycle these in your area.
Currently there are regional recycling rules in NZ, which can cause confusion. This year a significant Standardising kerbside collections in Aotearoa report was released. This took a close look at the current system and recommends a nationwide standard for rubbish and recycling collection.
How to Recycle Metal Cans
Canned food products are pantry staples, as they have a long shelf life and preserve the nutrient content of the food. These cans can be recycled over and over again. They are one of the easiest types of packaging to recycle as they can be sorted by magnetic separation. Our range of canned goods includes beans, tomatoes, coconut milk and cream.
Simply rinse out the cans and place them in your kerbside recycling bin.
How to Recycle Paper Fibre
Paper fibre, which includes corrugated cardboard boxes, rolls and paper can be recycled in NZ and are remanufactured into boxes, egg cartons, fruit trays and paper. However, this fibre loses strength each time it is reused, and requires a mix of recycled material and virgin fibre.
The hot cereal range comes in a fully recyclable box.
Simply flatten the box and place it in your kerbside recycling bin.
How to Recycle Soft Plastics
Soft plastics can now be recycled in NZ through The Love NZ Soft Plastic Recycling Scheme. This turns bread bags, bubble wrap and plastic wrappers into new products such as fence posts. Find out where your closest collection point is here.
We are currently in the process of transitioning all our dry goods into soft plastic recyclable pouches, made with 25% recycled content to minimise our impact on the environment. Look for the soft plastic recyclable logo clearly positioned on the front of our packaging.
Our full cereal range is in soft plastics recyclable bags.
Our hot cereal single serve sachets are soft plastics recyclable.
Keep an eye out for soft plastic recyclable bags for Epsom salts, the oat range, the snack range and the hemp range.
Simply rinse the empty packets and drop them off at a participating store near you.
How to Recycle Packaging from our Partners
We partner with other companies that share our passion for sustainable packaging.
Loving Earth makes raw, vegan, plant-based chocolate is wrapped in sustainable packaging.
The chocolate wrappers are a compostable film made with sustainably managed plant sources. Place in your home compost.
The 45g and 80g chocolate bar boxes are made from post-consumer fibre with vegetable-based inks and can be recycled in your kerbside cardboard bin.
Clipper Tea is leading the market as packaging pioneers, being the first in the world to have developed an unbleached, plastic-free, non-GMO tea bag.
Simply toss the teabag into your compost or worm bin as it is made from a blend of plant fibres.
The tea bag envelopes and tea boxes are paper fibre recyclable and can be put in your kerbside recycling bin.
Isola Bio is a Certified B Corporation and uses tetra packs to maintain the freshness of their organic plant-based milks.
In Auckland, these cartons can be put into your kerbside recycling bin.
For other regions, check with your local council for recycling capabilities.
When you choose to recycle, you are supporting a full circle of sustainability. Living waste free may seem overwhelming, so start with small positive decisions. Be mindful of each purchase you make, choose to recycle and compost what you can. Find some inspirational stories here about fellow Kiwis who are making a real difference.
PRODUCTS MENTIONED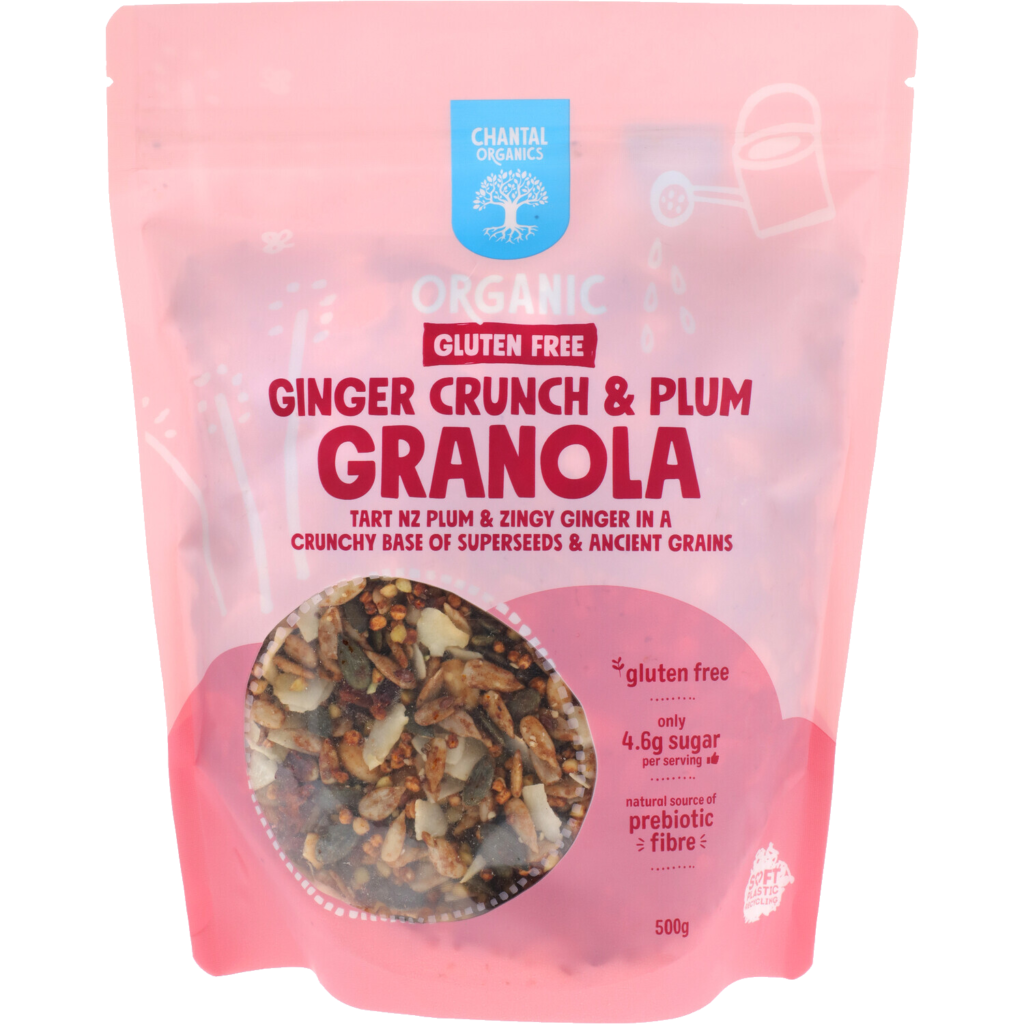 Gluten Free Ginger Crunch & Plum Granola