September 9, 2020
Refresh and Nourish Your Breakfast Regime
Inventive breakfast inspiration to make your morning meal exciting again.
Starting your day with a nutrient dense breakfast sets the stage for a day of healthy eating by supporting good food choices. Eating a balanced breakfast also restores the body's energy after a night's fast. A well-balanced breakfast high in protein, healthy fats and nutrient rich carbs, supports brain function, weight loss, steady blood sugar levels and a good source of dietary fibre. If you're finding yourself in a breakfast rut, we've put together a bit of inspiration here for every kind of situation.
Prepare and Plan Ahead
A bit of prep on the weekend supports healthy choices on busy weekday mornings. Overnight oats are not only delicious, filling and economical, they are versatile. Tired of the same plain oat breakfast day in and day out? Change it up with turmeric oats or overnight chia oats.
Oats provide an essential carbohydrate called glucose which needs to be restored after a night of fasting, for healthy brain function. Improve the quality of your breakfast by choosing organic oats without potentially harmful Glyphosate, a pesticide that is commonly sprayed on conventional oat crops and has been linked to cancer.
If you prefer a gluten free start to you day, try this Ginger Crunch & Plum Granola. Or make your own chia pudding, a great plant-based source of omegas to support brain function. This easy Berry & Chia Pudding is a great recipe to start with. Add a tablespoon of peanut butter or almond butter for a boost of flavour and protein.
On-the-Go
Mornings can be a rush and sitting down may not be possible. Prepare these Vegan Seeded Hemp Protein Bars on the weekend for a grab-and-go boost of omegas. Bake these Apple Crumble Breakfast Cookies and grab one for on the way.
Grab one of new Chantal Organics Probiotic Easy Oats, which come in three delicious flavours. Perfect for breakfast on-the-go, at work, while hiking, camping, caravanning, tramping or before the school day. Easy Oats are boosted with a unique, shelf-stable source of probiotics. 
If your trying to reduce grains in your diet, this delicious Paleo Apple Pie Cereal is the perfect option.  Enjoy with your choice of plant based milk 
Working from Home
Get creative with spreads and utilize what's in your pantry. Nut and seed spreads provide plant-based protein that keeps you going until lunchtime. Tahini is a great source of calcium and a tasty spread for on toast. Top with avocado and a sprinkle of hemp seeds for a savoury breakfast or drizzle with honey for a sweet option.
Peanut butter is packed with protein, versatile and great to feed the whole family, while almond butter is more sweet and smooth. This Cinnamon Spiced Almond Butter with Chia & Hemp is delicious on another level! Both are great on toast, as well as slices of fruit and vegetable sticks. We love almond butter on carrot, celery, courgette or even cucumber slices. Try this indulgent yet good for you Salted Caramel Peanut Butter for a bangin' breakfast!
Feeding the Family
Studies show how important it is that kids eat a well-balanced breakfast to support a day of learning. It can be tricky to get kids to eat in the morning, here are a few ideas to switch up the menu.
Breakfast sandwiches. Toast some bread and put together a plate of ingredients for everyone to make their own. Include options such as: avocado, tomato, egg, hummus, sprouts, rocket, grated carrot, kimchi, bacon, peanut butter, banana, jam or hemp seeds.
Smoothies. Start with a base of berries, bananas, nuts or seeds, avocado and a handful of greens. Chia or hemp seeds add a boost of plant-based omegas to support brain power. The protein from the seeds keeps kids feeling fuller for longer and the greens are a great way to sneak in some veggies.
The Untraditional Breakfast
Vegetables for breakfast may sound crazy, but it's a great source of complex carbs, vitamins, minerals and dietary fibre. Mix things up with a savoury breakfast.
Eggs are versatile and make a great base to add vegetables. Cook an omelette filled with mushrooms and greens or scramble eggs with any veggies on hand. These Quinoa Salmon Muffins are nutritious and can be frozen for later too.
Breakfast Stir-fry. A simple bowl of veggies with a flavourful sauce is very satisfying. Use a dash of sesame oil or tamari for added flavour.
The Weekend Feast
Whether you like a relaxing morning at home, or need to eat after a morning run, weekends are perfect for putting together something special for breakfast. Feed the family with this One Pot Big Breakfast, filled with sage potatoes, sweet cherry tomatoes, crispy bacon and fried eggs. Everyone loves pancakes, try these Hemp Protein Pancakes, Wholemeal Pancakes or for a special occasion Cinnamon Bun Pancakes.
Whether you prefer protein to keep you feeling fuller longer, fruit for something light or a traditional brekky with carbs, eating a nutritious breakfast is important. What is your favourite breakfast?
PRODUCTS MENTIONED
Cinnamon Spiced Almond Butter With Chia & Hemp
Whole Peanut Butter Smooth
Paleo Caramel Apple Pie Supergranola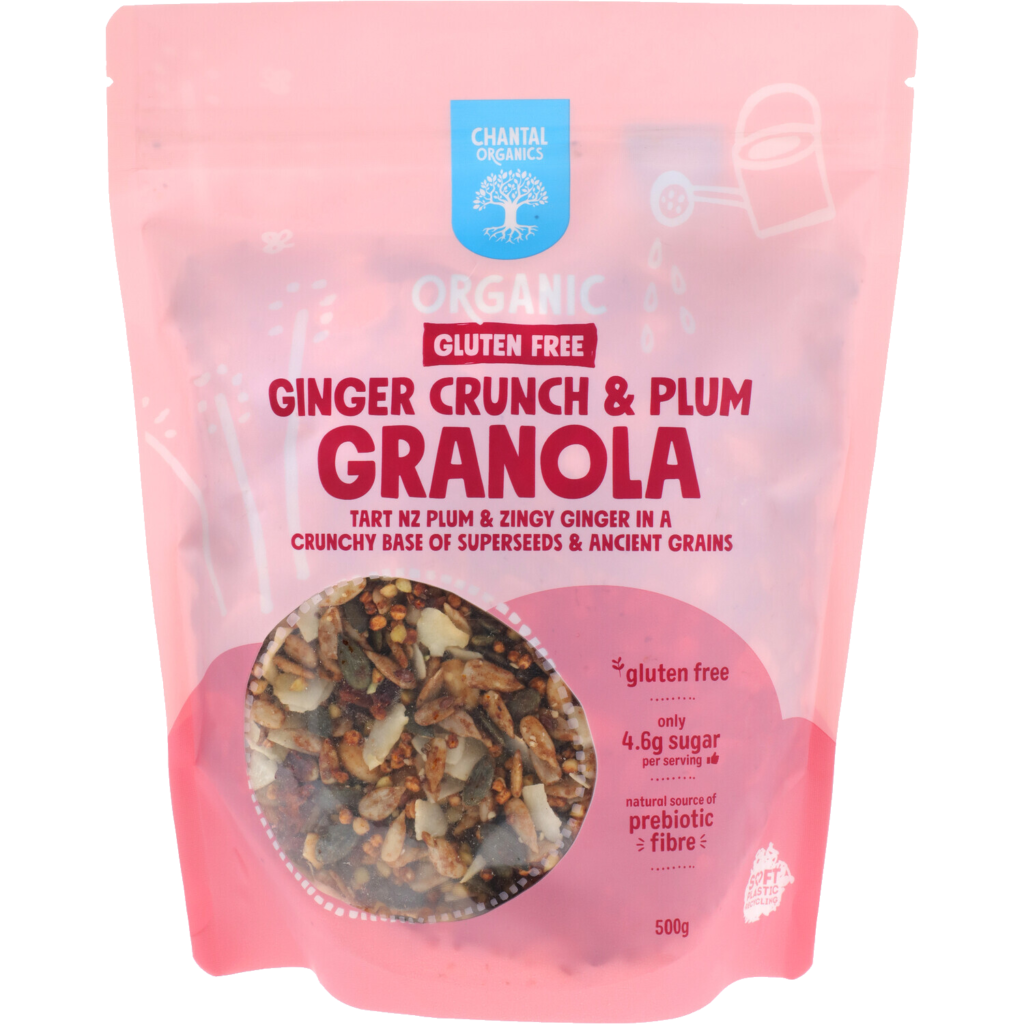 Gluten Free Ginger Crunch & Plum Granola